Italian tart with citrus cream recipe
Italian tart with citrus cream recipe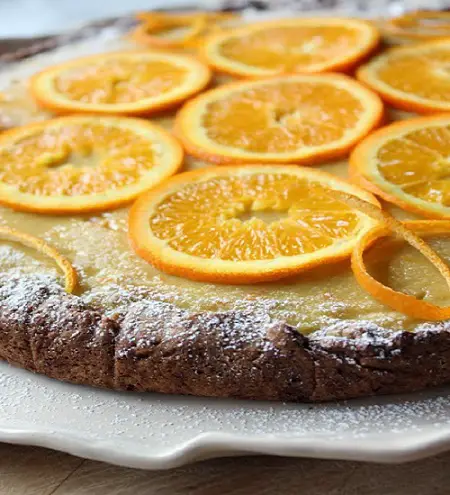 For the pastry (for a tart for 6-8 people): 
200 g whole spelled flour
50 g buckwheat flour
50 g brown sugar
65 g sparkling mineral water
35 g extra virgin olive oil mild (or the Garda Liguria)
25 g sunflower oil (or almond if you have one)
8 g baking powder
a pinch of salt
For the custard:
450 g milk
4 egg yolks
35 g cornstarch
70 g sugar (cane full 50 + 50 caster)
orange peel and grated peel of one lemon bio
Procedure: 
Mix the water, yeast and olive oil, add the sugar, flour, mix well together and put in the fridge to rest for half an hour.
Prepare the cream. Heat the milk to boil and remove from heat.
United to milk the grated peel of citrus fruit. In a bowl, put the egg yolks with the sugar and whip with a whisk. Then add the cornstarch and incorporate well.
Pour a little at a time, the cream eggs in warm milk and put it on low heat.
Cook the custard, stirring constantly and turn it off just begins to thicken without letting it boil. Pour immediately into a bowl and leave to cool.
Roll the pastry out of the fridge and roll it out with a rolling pin, put it in a pan with springform pan.
Prick the dough with a fork and distribuitevi over the cream. Bake at 180 ° C for about 30 minutes. Let cool and cover with slices of orange.
If it is not intended for children but for adults only and if you like, you can marinate the orange slices in two tablespoons of cointreau and then place them on the cake.