Italy is one of the most diverse wine growing regions in Europe. Take a tour through Italy's wine regions
as you sample the varietals that have become hallmarks of Italian wine. This trio includes a light and crisp
Pinot Grigio from Veneto, a juicy red from Tuscany and a spicy Nero d'Avola from Sicily.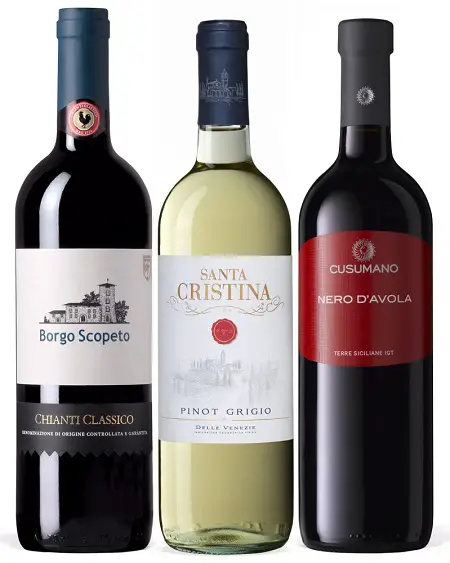 Santa Cristina by Antinori Pinot Grigio:
    The wine, straw yellow in color, shows delicate and fruity aromas which recall, in particular, yellow apples
and citrus peels. It is a balanced wine character by its softness and ease of drinking.
    Borgo Scopeto Chianti Classico:
    Dark  ruby red. Bouquet is full and intense but at the same time sweet and fruity, with hints of black soft fruit.
Pleasant overtone of noble wood, vanilla and cocoa and a surprising cherry finish. Dry, firmly structured, austere
and elegant on the palate; well balanced. Excellent persistence of the flavor on the palate.
    Cusumano Nero d'Avola:
    Deep red color with violet reflections. Pleasant scents of brambly red berry fruits lead to a harmonious and
rounded palate. This is an elegant and concentrated red, with delicious ripe fruit and a pronounced character.