Jack-o'-Lantern Chicken Risotto Stuffed Peppers
Jack-o'-Lantern Chicken Risotto Stuffed Peppers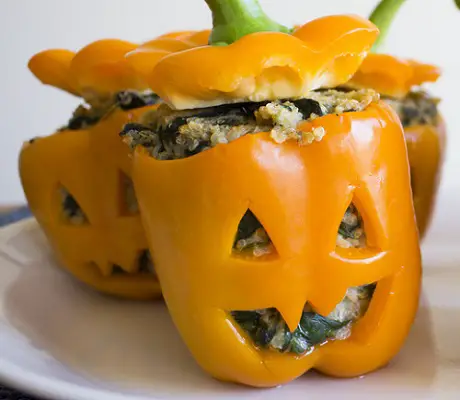 INGREDIENTS
Serves 3-6 people
6 Orange bell peppers

1 bunch of long green onions, chopped

2 carrots, finely chopped

2 cloves of garlic, chopped

3 Tbls of extra virgin olive oil

4 Tbls of butter

1 pound of ground chicken

1 cup of Arborio rice

1/2 cup of Marsala wine

1/2 tsp of dried tarragon

1/2 tsp of thyme

6 cups of chicken broth

1 8oz can of tomato sauce

1 cup of fresh grated parmesan cheese

1 tsp of salt

1 tsp of fresh ground black pepper

1/4 cup of fresh Italian flat leaf parsley

8oz. of shredded mozzarella cheese

1 15oz can of tomato sauce

1 tsp dried basil

1 tsp of dried oregano
PREPARATION
Cut each pepper around the stem and remove to create a lid. Remove the seeds and, if the peppers do not sit flat, trim the bottoms slightly; just be careful not to cut a hole in the bottom of the peppers. Using the tip of a small serrated knife, cut a face like a jack-o'-lantern into the side of each pepper.

In a large heavy bottom pot, sauté the onions, carrots and garlic in the olive oil and butter for 2 to 3 minutes.

Add the ground chicken and chop into little pieces with a wooden spoon.

Cook the chicken for another 2 minutes.

Stir in the rice and cook until slightly browned.

Stir in the wine and keep stirring until the wine is absorbed by the rice.

Add the tarragon and thyme.

Stir in the chicken broth one cup at a time until each cup is absorbed by the rice.

Add the 8oz tomato sauce.

Stir in the parmesan cheese and parsley.

Season with salt and pepper.

Pre-heat the oven to 350 degrees.

Carefully stuff the peppers and place them standing up in a glass baking dish.

Top the peppers with the mozzarella cheese.

Sprinkle with the basil and oregano.

Place the tops back on.

 Bake until the peppers are fork-tender, about 30 minutes.