Lamb Meatballs as an appetizer
Lamb Meatballs as an appetizer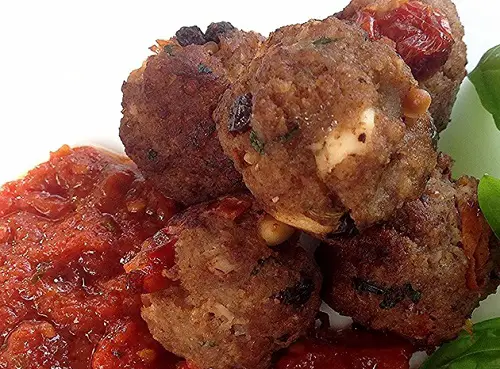 LAMB MEATBALLS
Makes: 55-60 1 1/2 inch balls as an appetizer
Prep: 25 minutes
Cook: 3-4 minutes (fried) – about 12 minutes – baked
Ingredients
1 lb. Ground Lamb – ( if you don't see it at your grocer, ask them to get it for you)

2 Links (about 7-8 oz.) Italian Sweet or Mild Sausage  – out of the casings

3/4 C. Dry Plain Breadcrumbs – yes dry! The smaller balls with all the chunky ingredients hold better using them. They will moisten up in the sauce.)

1/4 C. Grated Parmigiano-Reggiano or Provolone Cheese

1/4 C. Chopped Sundried Tomatoes packed in oil

1/4 C. Currants or Chopped Raisins

1 Clove Fresh Garlic – chopped finely

1/4 C. Toasted Pignoli (pine nuts)

Herbs: 1 Tbsp. Fresh Sage, 1 Tbsp. Fresh Parsley, 1 Tsp. Fresh Mint – all chopped

1/2 C. Crumbled Feta Cheese

Salt and Pepper to taste

1 Lightly Beaten Egg

Oil for frying – if frying.

Sweet Tomato Sauce when serving as appetizer – recipe below.

Crumbled Feta for garnish
Instructions
I like to use clean hands for all mixing with meatballs.

Mix ground lamb and sausage together in a large bowl.

Add: breadcrumbs, grated cheese, sundried tomatoes, currants, chopped garlic, toasted pignoli, herbs. Mix together well.

Add feta and mix gently.

Season with salt and pepper as needed.

Add egg and mix.

Roll meatballs with your hands. For appetizer size – about  1 1/2 inch size – using about  one and one half  Tbsp. of mixture per ball.

Fry in oil and drain on paper towels – about 3-4 minutes. Keep them moving in the oil for more even cooking. If baking – 350 degrees for about 10-12 minutes – do not over bake. They will cook more in the sauce.
SWEET TOMATO SAUCE WITH MINT
Ingredients
3 Tbsp. Olive Oil

2 Cloves Fresh Garlic – chopped finely

1 28 oz Can San Marzano Tomatoes – crush with hands if whole tomatoes

3 Tbsp. Fresh Basil – chopped

2 Tbsp. Fresh Mint – chopped

1 Tbsp. Balsamic Vinegar

2 Tbsp. Sugar

Salt and Pepper to taste
Instructions
Heat the garlic about a minute in the hot oil. Do not burn or brown the garlic!

Add the tomatoes, herbs, vinegar, sugar, salt and pepper.

At medium high heat – bring to a strong bubble and then lower the heat.

Cook at lower temp., stirring occasionally, about 25 minutes until the sauce is thick and concentrated. Much of the liquid will cook off.

Add the meatballs to the sauce – gently toss so that all are coated. Cook another 5-7 minutes. Leave the meatballs in the sauce to serve, refrigerate, or freeze until you are ready to use them.