Lasagnetti with Crumbled Sausage, Asparagus and Zucchini
Lasagnetti with Crumbled Sausage, Asparagus and Zucchini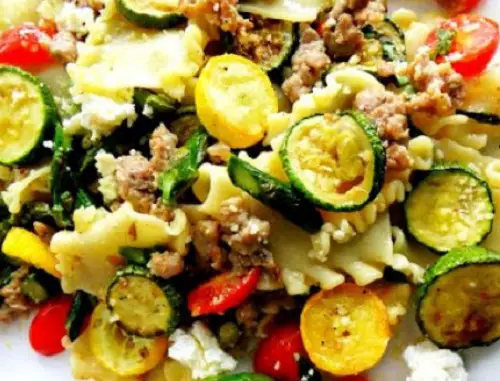 Ingredients
3 small yellow squash cut in ¼ inch slice

3 small zucchini cut in ¼ inch slice

1 lb. fresh asparagus cut diagonally

12 or more grape tomatoes cut in half

1 large shallot finely chopped

1 lb. Italian sausage, casings removed

½ cup each of white wine, chicken broth and pasta water

¼ cup olive oil

2 garlic cloves, minced

1 lb. of cooked lasagnetti or any sturdy pasta, reserve ½ cup pasta water

1 cup of ricotta

fresh basil and grated romano for garnish
Instructions
Roast zucchini coins and asparagus on a baking sheet drizzled in olive oil at 425 until golden brown.

Saute the tomatoes in olive oil in a small skillet.

Brown sausage in a skillet with the chopped shallot and garlic cloves, my sausage is very lean so I add a little olive oil when browning. When sausage is cooked through add in the wine, broth, ¼ cup olive oil and pasta water, this will be the base for your sauce.

Toss everything into a large bowl coating the cooked pasta with the sauce, tossing with grated cheese, fresh snipped basil and salt and pepper to taste.

Place on a platter and dot with fresh ricotta and a drizzle more of olive oil if needed.