Lemon Ricotta muffins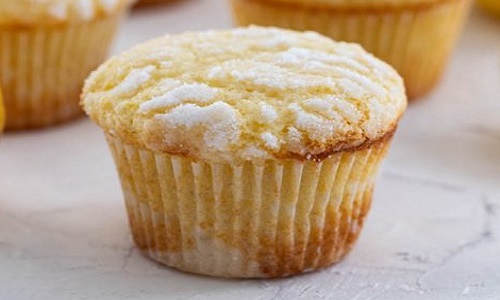 Ingredients
2 cups all-purpose flour

1/2 teaspoon baking powder

1/2 teaspoon baking soda

1/2 teaspoon salt

1 cup plus 1 teaspoon sugar or more as needed for sprinkling

1/2 cup (1 stick) unsalted butter, room temperature

1 tablespoon finely grated lemon zest (from 2 lemons)

1 cup whole-milk ricotta cheese

1 large egg

1 tablespoon fresh lemon juice

1/2 teaspoon almond extract

1/3 cup thinly sliced almonds
Directions
Line 12 muffin cups with paper liners. Preheat the oven to 350 degrees F.

Whisk the flour, baking powder, baking soda, and salt in a medium bowl to blend.

 Using an electric mixer, beat 1 cup sugar, butter, and lemon zest in a large bowl until light and fluffy.

Beat in the ricotta.

 Beat in the egg, lemon juice, and almond extract.

 Add the dry ingredients and stir just until blended (the batter will be thick and fluffy).

Divide the batter among the prepared muffin cups.

Sprinkle the almonds and then the remaining 1 teaspoon of sugar over the muffins.

 Bake until the muffins just become pale golden on top, about 20 minutes.

Cool slightly. Serve warm or at room temperature.