Lemon-Strawberry Budino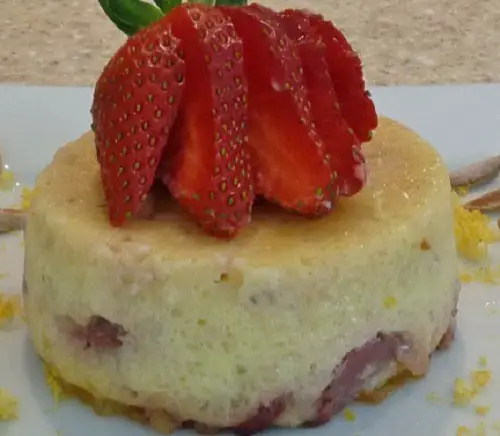 Ingredients
Butter 6 ramekins (Ramekins – small fluted souffle dishes – or baking custard cups

Preheat oven to 350 degrees

4 Eggs

2 Egg yolks

1/2 c. sugar

Pinch salt

2 Tbsp. Lemon Zest

Fresh Juice of 1 Lemon

2 Tsp. Lemon Extract

1/2  cup Crushed Lemon Wafer Cookies (about 10-12)

1 c. Heavy cream

1/2 c. whole milk

1 c. Chopped fresh strawberries
Instructions:
Makes about 6 ramekins (or custard cups)  – or can use a large quiche plate and do one

Whisk together: eggs, egg yolks, sugar, salt

Add: Lemon juice, zest, extract – whisk again

Add lemon wafer crumbs – mix well

Add cream and milk – mix

Add strawberries

Pour mixture into ramekins – fill about 2/3 full.

Make sure you get strawberries and crumbs into each dish. You might want to stir the mixture as you go. Place ramekins into a baking pan a couple of inches deep. Fill pan with hot water so it goes about an inch up the sides of ramekins.

Carefully place pan in oven and bake the puddings in the water bath at 350 for about 40 min. Budino should be firm in the middle when touched. Carefully remove the pan when done. Remove ramekins to cool. Cool completely.

Now you can decide whether to unmold to serve or to serve in the little cups which is the easiest way.

If you serve from the ramekin – I suggest placing it on a small plate with a toasted almond garnish and a strawberry on top. Just partially slice the berry about 4 times vertically not going all the way through and fan it out.

If you want to get a little fancier and unmold it – the Budino must be completely cool. Slide a butter knife inside all around the pudding a few times gently nudging it. Invert onto plate. If it is stubborn – just repeat circling with the butter knife and nudging it out. If it unmolds and a little is left in the ramekin – don't worry – spoon it on top. You are going to put a strawberry on top and no one will see it!