Lemon Zest and Capers Veal Chops
Lemon Zest and Capers Veal Chops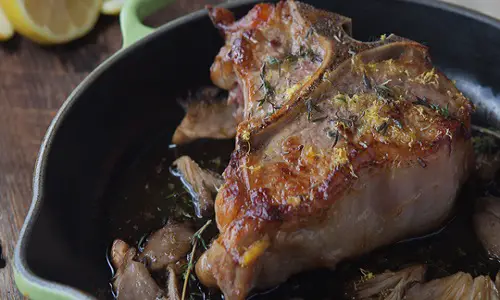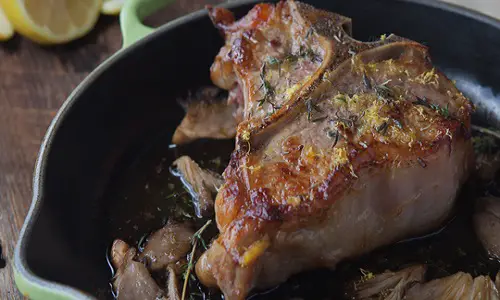 Ingredients
    4 veal loin chops, 1 1/4 inch thick

    1/4 cup extra virgin olive oil, divided

    1 1/4 teaspoon sea salt

    3/4 teaspoon freshly ground pepper

    1 lemon, zest then juiced

    5-6 tablespoons unsalted butter

    2 tablespoons fresh thyme leaves or 2 teaspoon of dried
Directions
    Place the veal chops on a large dish or platter then drizzle with olive oil and season both sides with salt and pepper.

    Season with the lemon zest and thyme. Let rest at room temperature for 20 minutes.

    Preheat the oven to 400 degrees F.

    Heat a large oven safe sauté pan or roasting pan large enough to hold the chops in a single layer over medium-high heat.  Melt 4 to 5 tablespoons of the butter along with 2 tablespoon of olive oil.   Once really hot add the veal chops to sear each side for about 3 minutes (only flip once).

    Add small cubes of the remaining butter on the veal.

    Transfer to the oven and roast for 15 minutes or until an instant-read thermometer registers 160 degrees F for medium and 170 degrees F for well-done.

    Squeeze the lemon juice over the veal then serve.
    Source: https://www.cindystable.com/recipes/item/lemon-zest-and-capers-veal-chops