LIMONCELLO BLUEBERRY SORBETTO
LIMONCELLO BLUEBERRY SORBETTO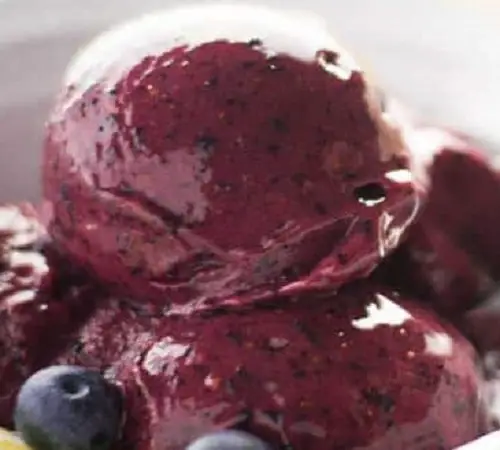 Ingredients
1 C. Simple Syrup

1 Cinnamon Stick

4 C. Fresh Blueberries

1 Tbsp. Lemon Juice

2 Tbsp. Limoncello (optional)
Instructions
Make a Simple Syrup: place 1 c. sugar and 1 c. water in a saucepan along with the cinnamon stick and bring to boil, simmer about 5 minutes, dissolving the sugar. Cool completely. When cool, discard the cinnamon stick.

Wash berries and drain.

Run the berries through a food processor or blender.

Strain out the seeds, skins – discard.

Add the lemon juice, Simple Syrup, and Limoncello, if using it, to the blueberry puree. The Limoncello does help keep the sorbetto at a nice consistency and is not overly detectible.

Chill overnight.

Make the sorbetto in your ice cream maker according to manufacturer directions. Keep the sorbetto in the freezer.