Linguine with Calamari in Tomato Sauce
Linguine with Calamari in Tomato Sauce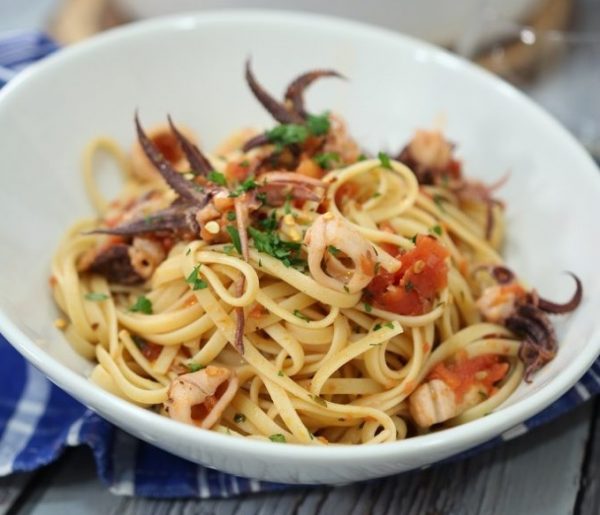 Ingredients
    1/2 lb. Linguine

    1 lb. Calamari cleaned, peeled and sliced

    1 lb. Fresh Plum Tomatoes peeled and chopped

    4 Garlic cloves minced

    1 Shallot chopped

    1 tsp. Hot pepper flakes optional

    1/4 cup White wine Chardonnay

    Handful parsley chopped

    4 Basil leaves optional

    Olive oil extra virgin

    Salt and black pepper to taste
Instructions
    Begin by cleaning the calamari. Click here to see step by step on how I clean calamari before cooking. Remove the head from the body. After washing and peeling off the skin from the body, make sure to flip inside out to clean and remove the cartilage (looks like plastic). Pinch just below the eyes on the head to rip off the tentacles. Discard the head. Pinch the beak off of the tentacles and discard. Slice the body into rings and set aside with the tentacles.

    Add a large drizzle of olive oil to a large sauté pan. Add three quarters of the minced garlic and chopped shallot to the sauté pan and fry for about one minute over medium/high heat. Add the tomatoes into the sauté pan, season with salt, black pepper, hot pepper flakes, and a sprinkle of parsley and cook over medium/low.

    Meanwhile, add a large drizzle of olive oil to a frying pan. Add the rest of the garlic and shallot to the frying pan. Fry for about one minute over medium/high heat.

    Add the calamari into the frying pan and cook over medium heat for about two minutes. Pour in the wine and cook for about one minute to allow the alcohol to evaporate. Season with salt and black pepper.

    Pour the calamari contents from the frying pan in to the sauté pan and mix with the tomato sauce. Add the basil leaves for more flavor and simmer for twenty minutes. Simmering over low heat allows the calamari to be cooked until tender and avoids overcooking.

    Meanwhile, bring a pot of salted water to a boil. Cook the linguine as per the package instructions, but remove from the pot two minutes before it is done cooking.

    Scoop the pasta into the calamari tomato sauce pan and mix together, allowing the pasta to finish cooking in the sauce for the last two minutes.

    Serve with a sprinkle of freshly chopped parsley on top and enjoy. Salute and cin cin!