Linguine with Seafood Baked in Parchment Paper
Linguine with Seafood Baked in Parchment Paper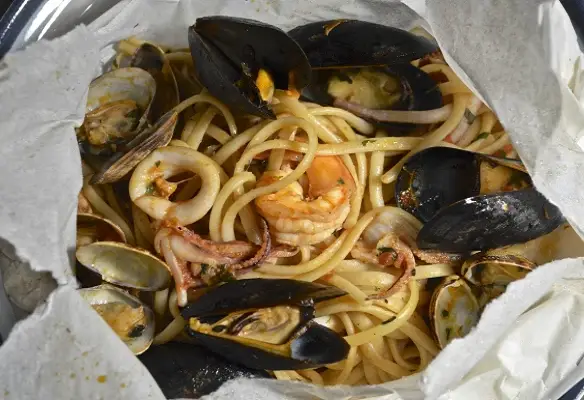 Ingredients
yield: 3 servings (See Notes)
1/2 lb (225 g) fresh linguine, spaghetti, or tagliatelle — dried pasta may be substituted

4 tbsp olive oil, divided

1 small onion, finely chopped

1/4 tsp red pepper flakes

4 garlic cloves, minced or grated, divided

4 tbsp chopped parsley, divided

2 tbsp basil, chopped

1 small can (14.5 oz; 400 g) diced tomatoes

1/2 c white wine, divided

1/2 cup clam juice or shrimp stock (see Notes)

1 tsp dried marjoram (2 tsp if fresh)

6 mussels, (see Notes)

6 cherry-stone or manila clams, (see Notes)

6 scallops, cut in half (see Notes)

9 shrimp (see Notes)

3 calamari (see Notes)

salt and pepper, to taste

chopped parsley and basil for garnish
Directions
At least 30 minutes before you are to begin preparing the sauce, place the clams in a bowl filled with cold water. Change the water at least once and be sure to brush the clam shells before cooking them.

Prepare a simple tomato sauce:

Place 2 tbsp olive oil in a small sauce pan over med-heat. Once hot, add the onion, the red pepper flakes, season with salt & pepper, and sauté until translucent, about 5 minutes.

Add 2 cloves of garlic and 2 tbsp of parsley, stir, and continue to sauté for another minute or so.

Add 1/4 c wine, the tomatoes, 1 tbsp basil, season with marjoram, salt & pepper, and bring to a boil before lowering heat to a simmer.

Allow to simmer until sauce has deepened in color and thickened, about 30 to 40 minutes. Taste for seasoning and adjust, if necessary.

Put aside 1/2 cup for the recipe and reserve the rest for another day.

Pre-heat oven to 375˚ F (190˚ C).

In a large pot of salted boiling water, cook the pasta until 2 minutes before the package indicates it will be al dente. (See Notes)

In a large, deep fry pan with a lid, add remaining olive oil over med-high heat. Add remaining oil, garlic, and parsley to the pan and sauté until fragrant, about a minute or so. Add the clams and mussels, cover the pan, and sauté for 2 minutes.

Add the squid, shrimp, scallops, clam juice, tomato sauce, and the remaining basil and wine to the pan. Cover, increase the heat to high, and boil the ingredients for about 2 more minutes.

Using a slotted spoon, remove the seafood from the pan, and place in a covered bowl. Reduce the sauce by half,

By now, the pasta should be drained. Add it to the boiling sauce, stir to evenly coat, and sauté for a minute.

Add the reserved seafood to the pan, mix, and heat till warmed throughout. At this point, discard any shellfish that have yet to open.

Meanwhile, take a large piece of parchment paper — or aluminum foil — fold in half and place on a large serving platter.

When the seafood and pasta are ready, place them along the fold of the parchment paper. Garnish with parsley and basil. Working quickly, use interlocking folds to join the top and bottom halves of the parchment paper.

Alternately:

Use separate sheets of folded parchment paper, one per serving.

Split the pasta and seafood evenly among the sheets. Garnish with parsley and basil. Fold each, as indicated in Step 11 above.

Place the parchment packet(s) on a baking sheet and place in the middle of a pre-heated oven.

Bake for 5 minutes and remove to a large serving platter or individual plates. Do not pierce the parchment until at the table.

Serve immediately and watch as your dinner guests open their parchment presents and get a whiff of that steam. This is why you go through the trouble of putting seafood pasta in parchment.
Notes
To store the fresh seafood
Fresh seafood will easily keep in your fridge for 24 hours if treated properly. I would not recommend storing beyond 24 hours.
Remove the clams and mussels from their packaging and place in a colander. Cover with damp — not sopping wet — paper towels. Place the colander in a bowl in which some ice as been set. Do not use so much ice that it will immerse any of the colander's contents when it melts or the mollusks may drown. Place the bowl with colander into your refrigerator until needed.

Leave the shrimp, squid, and mussels in their packaging and store in the coldest part of your refrigerator. Do not freeze.
To prepare the seafood:
The Clams: At least 30 minutes before they are to be used in the recipe, place in a bowl of cold water and soak. (Some believe adding a couple tbsp of corn meal to the water will cause the clams to eliminate any sediment.) Change the water at least once before the clams are needed. Just before use, scrub clean the shells with a small brush. Discard any that are open and that won't close on their own power.

The Mussels: Before use, remove the beard (a thread mass on one side) and use a brush to clean the shells. Discard any that are open and that won't close on their own power.

The Shrimp: remove the shell including the tail section, if desired. Save the shells to be used to make shrimp stock. Use a sharp paring knife to slit the top of each shrimp. This will reveal a dark-colored vein that should be removed.

The Scallops: these may be sold with a muscle attached to one side. It is about an inch long and /14 inch wide. This should be removed as it is tough and unpalatable.

The Squid: Use a sharp knife to cut each tube, creating rings that are a half-inch wide. If using the tentacles, cut them in half or quarters