Lobster Arancini (Fried Risotto Balls) with Saffron Aioli Sauce
Lobster Arancini (Fried Risotto Balls) with Saffron Aioli Sauce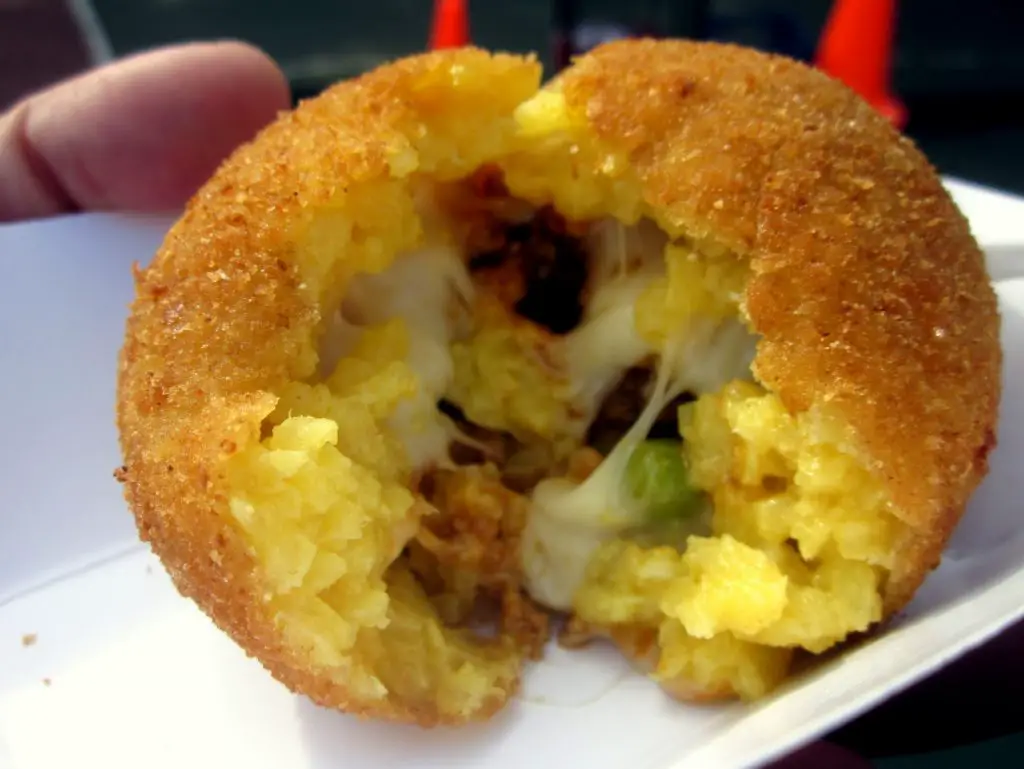 Lobster Arancini are a Sicilian delicacy! The creamy risotto rice balls are breaded and fried and stuffed with lobster meat. Serve them with a spicy Saffron Aioli dipping sauce.
Prep Time
8
hours
Cook Time
10
minutes
Total Time
8
hours
10
minutes
Servings
18
balls
Ingredients
Risotto:
2

tbsp

extra virgin olive oil

2

tb

butter

2

large shallots

chopped

2

cups

15 oz Arborio or Carnaroli rice

1

cup

white wine

Pinot Grigio

3

tablespoons

lemon juice or juice of half a lemon

4

cups

lobster stock + 1 cup water

simmering on the stove

Salt and fresh ground black pepper to taste

1

cup

parmesan cheese

freshly grated

1

cup

frozen peas

thawed
Arancini Assembly
2

cups

cooked lobster meat

diced

3

tablespoons

butter

2

eggs

beaten & 3 eggs, beaten – in separate bowls.

2

tablespoons

water

2

cups

breadcrumbs

half panko, half regular

1

cup

flour

1

quart

canola oil
Saffron Aioli
8 – 10

saffron threads

1

tablespoon

very hot water

1

cup

mayonnaise

1

tablespoon

Dijon mustard

1

tablespoon

extra virgin olive oil

Juice one lemon

1

teaspoon

kosher salt

1

teaspoon

black pepper

freshly ground
Instructions
To make the risotto: Heat the oil and butter is a large enamel pot on the stove. Add shallots, salt and pepper and saute until lightly browned. Add the rice and stir, cooking until lightly toasted about 3-4 minutes. Add the white wine while stirring. Add the lemon juice. With the heat on medium high, begin adding the seafood stock a little at a time, and continuously stirring, until all the stock has been used and the rice is al dente and creamy. Turn off heat, and mix in the parmesan cheese. Check seasoning and adjust if needed.

Spread the risotto in a single layer on a baking sheet sprayed with baking spray. Sprinkle the peas on top. Cover with saran wrap and refrigerate for a few hours, or overnight.

To make the Saffron Aioli: :Place 8-10 threads of saffron in 1 tablespoon of hot water in a small mixing bowl. Let steep for 5 minutes. Add salt, black pepper, lemon juice, olive oil, dijon mustard and mayonnaise and combine thoroughly. Cover and keep chilled until ready to serve to allow the flavors to blend.

To make the arancini:: Melt the butter in a pan, and warm the diced lobster meat. Set aside to cool in a small bowl.

Place the cold risotto in a large mixing bowl. Add 2 beaten eggs and stir in the cold risotto with ½ cup bread crumbs until well combined.

Place the remaining breadcrumbs in a deep medium bowl.

Add 2 tablespoons water to the remaining 3 beaten eggs to make a thin egg wash.

Place the flour in a small bowl. Arrange the breading station with the flour, egg wash and breadcrumbs.

Grab a handful of rice mixture and form a ball the size of an orange. Make a dent in the center with your thumb. Place a few pieces of lobster meat in the center of the cupped rice. Next, close the rice around the filling and shape into a ball. Add a little more rice if needed. It is up to you on the size – large like oranges, or small like tangerines.

Roll the arancini in flour, then roll in the beaten egg, and finally the breadcrumbs. Set aside until all of the risotto mixture has been used.

Heat oil in a deep fryer to 375 degrees. Add the arancini a few at a time, and cook quickly until golden brown. Do not crowd. Remove from oil and place on paper towel lined baking sheet to drain.

Serve immediately with Saffron Aioli or Bearnaise.

Note 1: These also can be made ahead of time. If so, deep fry them to light golden brown and drain on a paper towel. Refrigerate or freeze the arancini. To reheat, place them on a baking sheet lined with parchment paper in an oven at 400ºF for 10 minutes or until hot inside.