Meatzza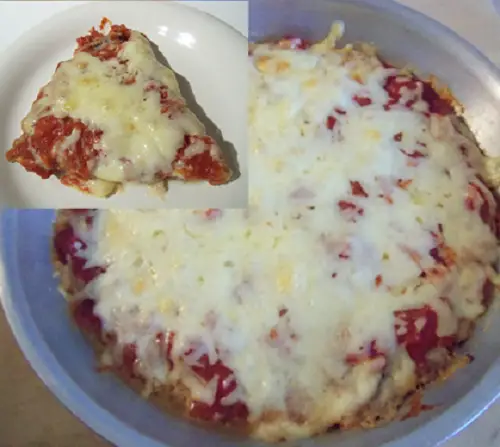 Looks like a pizza, but its base is made out of meatball mixture

Ingredients
500 grams minced beef

3 tablespoons grated Parmesan

3 tablespoons breadcrumbs (or porridge oats, not instant)

3 tablespoons chopped fresh parsley

2 large eggs (lightly beaten)

1 clove garlic (peeled)

salt to taste

pepper to taste

butter for greasing

1 x 400 grams can chopped tomatoes (drained)

1 teaspoon garlic infused olive oil

1 teaspoon dried oregano

125 grams ball of mozzarella (not buffalo) (drained weight, halved then sliced)

1 small bunch fresh basil
Method
Preheat the oven to 220ºC/gas mark 7/425°F.

In a large bowl, using your hands, combine the mince, Parmesan, breadcrumbs or oats, parsley and eggs. Grate in (or mince and add) the garlic and add some salt and pepper. Do not overwork it, just lightly mix together, or the meat will become compacted and dense.

Butter a shallow, round baking tin of about 28cm/11″ diameter and turn the meat into it, pressing the mixture lightly with your fingers to cover the bottom as if the seasoned minced meat were your pizza crust.

Make sure you've drained as much runny liquid as possible out of your can of diced tomatoes, then mix the tomato with the garlic oil, oregano and some salt and pepper and spread, using a rubber spatula, lightly on top of the meat base. Arrange the mozzarella slices on top, and then put in the oven for 20-25 minutes, by which time the meat should be cooked through and lightly set and the mozzarella melted.

Remove from the oven and let it sit for 5 minutes, then adorn with some basil leaves and bring it to the table before cutting into wedges, like a pizza.