Mercer County Italian-American Festival 9/25-9/27 2015
Mercer County Italian-American Festival
September 25, 26, 27 2015
Mercer County Park
Old Trenton Road
West Windsor, NJ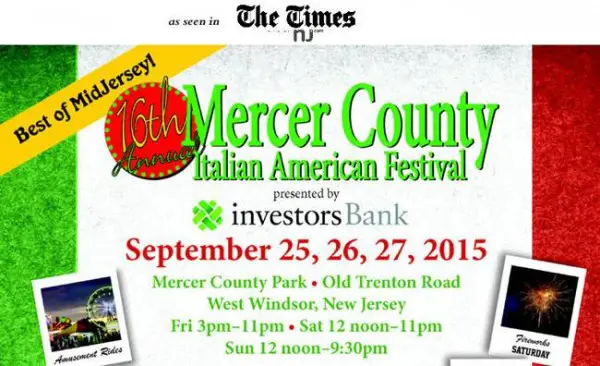 For more information visit: http://www.italianamericanfestival.com/index.cfm
Rain or Shine
NO PETS ALLOWED
Join us as we celebrate our Italian and Italian American Heritage and Culture at the 16th Annual Mercer County Italian American Festival, September 25, 26, 27, 2015.
Festival Hours
Friday Saturday Sunday
3pm – 11pm 12n – 11pm 12n – 9:30pm
Admission
Adults: $5.00
Senior Citizens, 65 years of age and older: $4.00 – compliments of
BAYADA Home Health Care
Children, 12 years of age and younger: FREE – compliments of
XFINITY®
Parking
Convenient on-site parking is FREE. Enter through Mercer County Park entrances on Hughes Drive or Old Trenton Road. Handicapped parking is available by using the South Post Road entrance to Mercer County Park.
Handicapped
Persons using a wheelchair or walker receive FREE Admission. Use South Post Road entrance for handicapped parking.
Military
Military personnel in uniform receive FREE Admission.
NO PETS OF ANY KIND PERMITTED ON FESTIVAL GROUNDS.
Food Piazza
Enjoy Italian specialties from many of the area's best Italian restaurants and vendors plus stop by our wine and beer gardens for a refreshing beverage.
Italian Market Tents
Peruse over 60 offerings in our Italian Market and purchase Italian and Italian-American handcrafted products from numerous vendors.
Italian Heritage Pavilion
View memorabilia with over 200 displays of important and famous Italian-Americans who have made a contribution to our Country. Check out more Italian products, crafts and organizations. Plus enjoy a touch of Rome at the near-life-size replica of the world-famous Trevi Fountain. Toss a coin in the fountain and make a wish. Coins benefit Ryan's Quest.
Bocce
Play Bocce…Learn Bocce…Love Bocce. Bocce is available to all who come to the festival, free of charge. There will be tournaments, bocce lessons, and time for everyone to play. Come check us out at the Bocce Tent. If you would like to participate in a tournament or need additional information, contact Jonah Pascucci at 215-908-7487 or jpascucci@richardsoncommercial.com.
Cultural Theater
Listen to guest speakers and watch cooking demonstrations. Located in the Italian Heritage Pavilion in front of the beautiful tapestry of Venice.
Dining Tents
Dine in covered seating areas
Provided by K McCoy Insurance Agency and Rose Hill Assisted Living Community
Dance Tents
Dance to your favorite performers on covered dance floors.
Amusement Rides
Enjoy more than twenty amusement rides for the whole family, provided by Majestic Midways. Rides are open all three days of the festival (Fri. 4pm – 10pm, Sat. 1pm -11 pm, Sun. 1pm-9:30 pm). Rides require two to five amusement ride tickets with most in the three to four tickets range. Tickets cost $1.50 each for quantities below 25 and $1.00 each for quantities of 25 or more. (Minimum purchase is two tickets).
SPECIAL REDUCED RATE HOURS: Ride for one less ticket than posted for all rides – Friday 4-6:30pm, Saturday 1-5 pm and Sunday 1-5 pm. Tickets may be purchased at the Amusement Ride Ticket Booths at the festival.
New This Year: Munchkinland. The area is designed for guests who are too small to ride many of the other rides. Munchkinland will be housed in a tent and will have a soft play area for children under 36″ tall and coin operated rides and games for those under 42″ tall. There will be a changing station with hand sanitizer as well and benches for adults to rest.
Entertainment
Enjoy performances on two stages including the Investors Bank Stage and the Cabaret Tent. Entertainment includes Italian folk dancers, big band music, traditional Italian music, Italian American favorites, opera, children's entertainment and national favorites. Past headliners have included The Duprees, Johnny Maestro and the Brooklyn Bridge, Sam Butera and the Wildest, The Happenings, and Joey Dee & the Starliters.
Fireworks Spectacular
Join us on Saturday and stay for the festival's spectacular fireworks display at 9:40 PM, immediately following the headliner performance.
Sunday Mass
Start Sunday with Mass at 11:00 am at the Investors Bank Stage. The Mass will be offered by Monsignor James Innocenzi in honor of military veterans. Then be part of the re-creation of a long-time Chambersburg "Feast of Lights" tradition when the statue of the Madonna di Casandrino is carried in procession immediately following the service.
Super 50/50
The total for 2014 ticket sales was $40,002 with the winner receiving $20,001. The winning ticket number was 02887. Special thanks to New Jersey Assemblyman, Wayne DeAngelo, who sponsors the printing of our 50/50 tickets. For more information, please call our chair, Marion Bolton, at 609-396-2944. And make sure to get on our mailing list for 2015.