Minestrone Primavera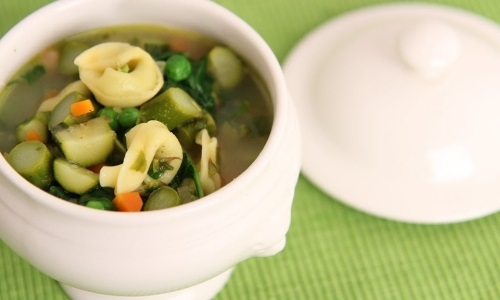 Ingredients
    2 Tbsp of Olive oil

    1 Bunch (about 5 or 6) Green Onions, white and light green parts only, chopped

    1 Large Carrot, peeled and diced

    2 Stalks of Celery, diced

    1 Bunch of Asparagus, trimmed and chopped

    2 Zucchini, diced

    1 14oz can of Cannelini Beans, drained and rinsed

    1 cup of White Wine

    1 3" Piece of Parmiggiano Rind or just freshly grated Parmiggiano Reggiano

    3 cups of Baby Spinach, washed, dried and roughly chopped

    ¼ cup of Pesto

    6 cups of Chicken Stock or Vegetable Stock

    ½ cup of Frozen Peas, defrosted

    1 cup of Cheese and Spinach Tortellini or any other dried pasta

    Salt and Pepper, to taste
Preparation
    1) In a large soup pot, add the oil and preheat it over medium heat.
    2) Add the green onions, carrot and celery and let them get nice and translucent, about 5 minutes.
    3) Add the wine and allow it to cook out for about a minute.
    4) Add the stock along with the cannelini beans and parmesan rind and bring to a boil.
    5) Add the chopped zucchini and asparagus and cook for about 10 minutes.
    6) Add the tortellini and cook them until cooked through, about 7 or 8 minutes. Add the spinach, peas and pesto and cook for 1 more minute.
    7) Season with salt and pepper to taste and serve immediately