Moments to Remember by The Four Lads – 1955
Moments to Remember by The Four Lads – 1955
The Four Lads- Corrado Codarini, Frank Busseri, Bernie Too rush and Jimmy Arnold
The Four Lads is a popular Canadian male singing quartet. In the 1950s, 1960s, and 1970s, the group earned many gold singles and albums. Its million-selling signature tunes include "Moments to Remember," "Standin' on the Corner," "No, Not Much," "Who Needs You?" and "Istanbul."
The Four Lads made numerous television appearances including the award-winning PBS special, Moments to Remember.
The current incarnation of the group features the original member Frank Busseri (bass), plus Don Farrar (lead tenor), Aaron Bruce (second tenor), and Alan Sokoloff (baritone).Their most famous hit was "Moments to Remember" in 1955, and their next best known was "Standin' on the Corner", from the Broadway musical production of The Most Happy Fella, in 1956. A gospel album with Frankie Laine took them back to their roots and produced the hit single "Rain, Rain, Rain". Their songs have appeared on numerous compilation albums and re-issues in the 1990s and 2000s.
Codarini was replaced in 1962 by Johnny D'Arc (who remained with the Lads until 1982), and Sid Edwards replaced Toorish in the early 1970s.
Arnold died of lung cancer in Sacramento, California, at the age of 72, while D'Arc died in 1999, aged 60. Codarini died on April 28, 2010, in Concord, NC, at the age of 80. Connie also owned a restaurant since the early 1980s in Medina, Ohio called Penny's Poorhouse, named after his wife. They came to Medina showing Great Danes and didn't leave until the restaurant was sold in 2007. Codarini was well known in the area for being an authentic bartender by making drinks from scratch and not taking short cuts.
Today, a reconstituted group, with original singer Busseri, performs live.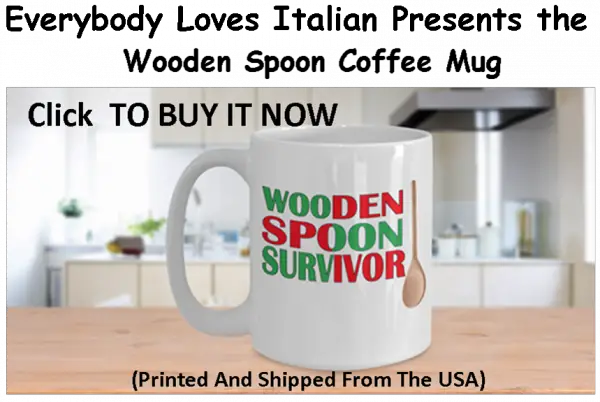 Join Joanne and Frank on Facebook at
and
Visit us on the web at EverybodyLovesItalian.com