Muffuletta – That Wonderful Sicilian Sandwich
Muffuletta – That Wonderful Sicilian Sandwich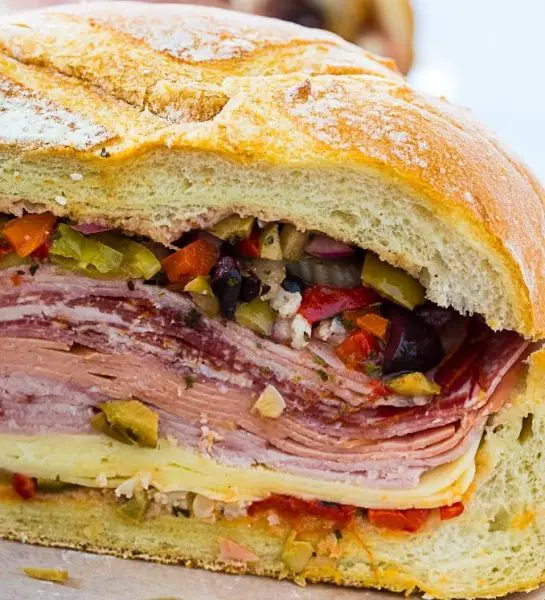 Muffuletta
The Muffuletta is both a type of round Sicilian sesame bread and a popular sandwich originating among Italian immigrants in New Orleans, Louisiana using the same bread.
A traditional style muffuletta sandwich consists of a muffuletta loaf split horizontally and covered with layers of marinated olive salad, mortadella, salami, mozzarella, ham, and provolone. The sandwich is sometimes heated to soften the provolone. Quarter, half, and full-sized muffulettas are sold.
The signature olive salad consists of olives diced with the celery, cauliflower andcarrot found in a jar of giardiniera, seasoned with oregano and garlic, covered in olive oil, and allowed to combine for at least 24 hours.
Olive salad is commercially produced for restaurants and for retail sale by vendors including the Boscoli Family, Rouses, Dorignacs, Franks, Roland Foods, and Aunt Sally's.
The traditional way to serve the sandwich at Central Grocery is cold, but many vendors will toast it. This was mentioned in the PBS special Sandwiches That You Will Like.
Everybody Loves Italian