Mushroom and Spinach Pasta
Mushroom and Spinach Pasta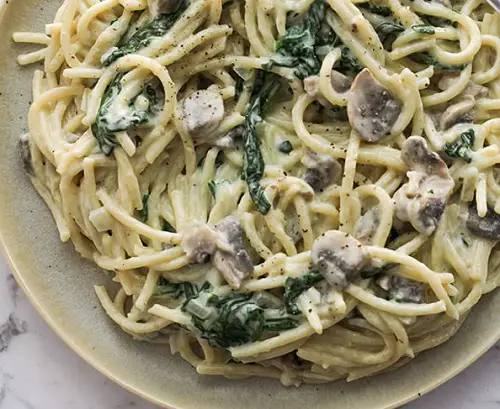 Ingredients
8 oz Dried Spaghetti

    Salt (for pasta water)

    1 tablespoon Olive Oil

    ¼ Brown / Yellow Onion, finely diced

    2 Garlic Cloves, finely chopped

    6 White / Cup Mushrooms, sliced

    100g / 3.5 oz Baby Spinach

    ½ cup Heavy / Cooking Cream

    ¼ Parmesan Cheese, finely grated (plus more to serve)
Instructions
Cook spaghetti to packet instructions. When the pasta is almost ready, begin the next steps.

    Heat oil in a frying pan on medium heat, then sauté onion and mushrooms until cooked. Next, add garlic and sauté until it's lightly brown.

    Lower the heat, then add ¼ cup of pasta water, the cream and parmesan to the frying pan. Stir to dissolve parmesan and simmer for a few minutes, stirring regularly.

    Add cooked pasta and the spinach to the frying pan and toss for a few minutes until the sauce thickens and clings to the pasta and the spinach is wilted.

    Serve immediately with extra parmesan on top.