Neapolitan Danubio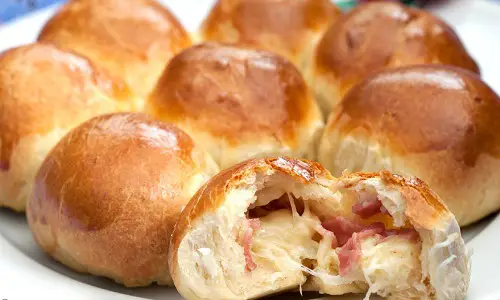 Danubio is a savoury brioche made up of many small balls filled with a variety of fillings. It is often prepared for Easter

Ingredients
   4 cups plain flour

    2/3 cup milk lukewarm

    ½ cup butter softened

    2 eggs beaten

    2 tsp active dry yeast

    2 tbsp sugar

    2/3 tbsp salt

    7 oz. ham chopped

    7 oz. cheese chopped (provola, scamorza, provolone, mozzarella, Swiss…)

    1 egg and 1 tbsp milk to brush
Instructions
Melt the yeast in the lukewarm milk and keep aside to activate.

    Put the flour and sugar in the bowl of an electric mixer fitted with a paddle attachment.

    Add the warm milk and yeast, eggs and salt. Knead.

    Add the softened butter little by little and knead until the butter is incorporated.

    Swap the paddle for the hook attachment and knead for at least 20 minutes, or until the dough is very smooth and pliable.

    Make into a ball and let it rise for 3 hours (or until it triples in volume).

    When ready, deflate the dough and divide it into lemon-sized balls.

    Flatten the balls and fill them with ham and cheese. Make into buns.

    Put the buns into a tin lined with baking paper. Make sure to leave some space between the balls, as they will raise more. Keep it to rise for 2 hours (or until they double in volume).

    Mix the egg and milk and use the egg wash to brush the tops of the buns.

    Bake in a pre-heated oven at 170°C – 340°F for 20-25 minutes.

    Serve warm or at room temperature.