New York Style Cheesecake Recipe
New York Style Cheesecake Recipe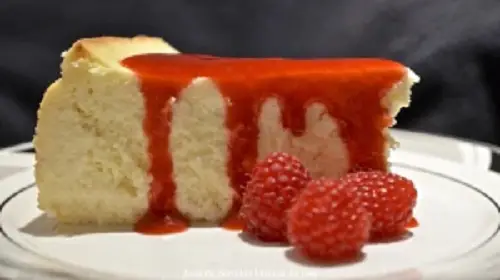 Ingredients
16 oz (453 g) cream cheese, softened

1 lb (453 g) cottage cheese, creamed

1½ c (330 g) sugar

4 eggs, slightly beaten

3 tbsp cornstarch

3 tbsp four

1½ tbsp lemon juice

1 tsp lemon zest

1 tsp pure vanilla extract

½ c (113 g) butter, melted

16 oz (453 g) sour cream
Directions
Pre-heat oven to 325˚ F (160˚ C). Thoroughly grease a 9 inch (23 cm) springform pan.

Using a stand mixer, beat together the cream cheese and cottage cheese at high speed until well combined and smooth.

Gradually add the sugar and then the eggs.

Reduce the speed to low before adding the corn starch, flour, lemon juice, lemon zest, and vanilla.

When well-mixed, add the melted butter and sour cream and beat until combined.

Pour the batter into the greased pan and place on the center rack of the pre-heated oven. Bake for 70 minutes or until cake is firm around the edges.

Turn off the oven and let the cake stand in the oven for 2 hours.

Remove from the oven and allow to cool on a counter for at least 2 hours more.

Refrigerate at least 3 hours before serving.

Garnish with fresh berries or sauce of your choice.
https://fromthebartolinikitchens.com/category/1-recipes-by-type/sweets-dolci/