Nutella Chocolate Chip Cookies
Nutella Chocolate Chip Cookies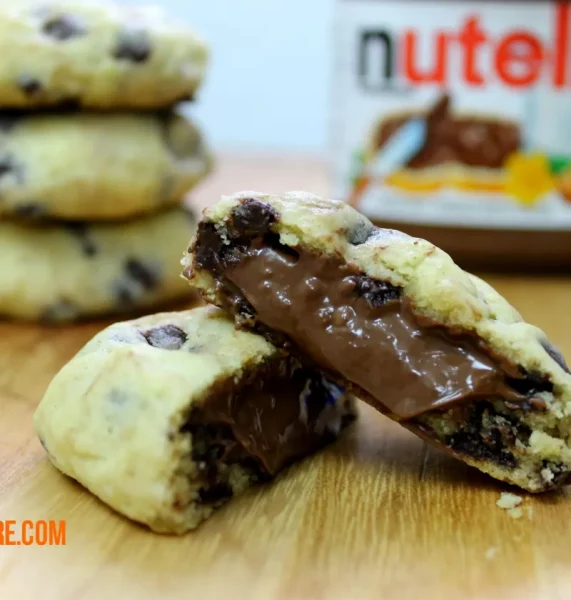 Nutella chocolate chip cooks are simple to make and incredibly delicious. This recipe uses a very easy cookie recipe, semisweet chocolate chips, and a nutella filling. The dough is flattened out, the filling place in the center, and the dough is folded back over the nutella. Watch the video and give this delicious goodness a try
Recipe and video courtesy of Cooknshare 

Ingredients
Author: David Hood
Prep time: 20 mins
Cook time: 15 mins
Total time: 35 mins
Serves: 14
    2 cups of all purpose flour

    1 tsp of baking soda

    1/2 cup of butter, softened

    2/3 cup of granulated sugar

    2 eggs

    1 tsp of vanilla

    1 cup of semi sweet chocolate chips

    1/2 cup of Nutella
Instructions
    Preheat your oven to 350 F degrees.

    Add the butter and sugar to a mixing bowl. Using an electric mixer or wooden spoon, mix the butter and sugar together until you get a smooth creamy consistency.

    Add in the eggs and vanilla and beat them until they are well combined.

    In a separate bowl, combine the flour and baking soda. Whisk them until they are well incorporated.

    Add the dry mixture to the wet mixture and fold them together. Add in the chocolate chips and use a spoon to mix them into the batter.

    Scoop out about a tablespoonful of the batter and flatten it out into the palm of your hand. Add about 1/2 a teaspoon of Nutella into the center. Gently fold the cookie dough back up so it entirely seals and covers the Nutella.

    Place the cookies on a greased cookie tray and place them in the oven for 12 -14 minutes. Remove them from the oven and place them on a wire rack to cool.

    Serve and enjoy you Nutella chocolate chip cookies.