Olive and Roasted Pepper Salad with Fontina Cheese
Olive and Roasted Pepper Salad with Fontina Cheese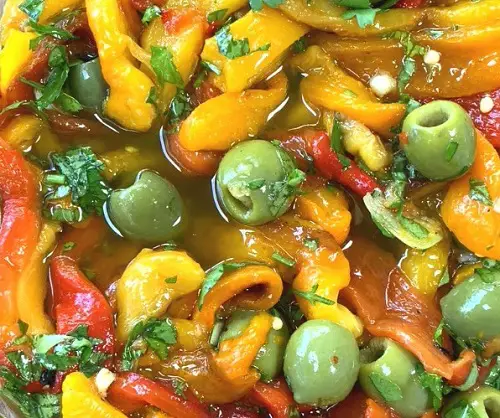 Ingredients:
6 roasted  bell peppers, or 3 cups jarred roasted peppers, cut in 1/2-inch strips

1/2 lb Fontina cheese, cut in 1/4-inch matchsticks

1 cup pitted large green olives

1/4 cup whipping cream

1 tablespoon plus 1 and 1/2 teaspoons Dijon mustard

1 and 1/2 teaspoons cider vinegar

1/4 teaspoon kosher salt

1 tablespoon extra-virgin olive oil

2 tablespoons chopped fresh Italian parsley
Directions:
Toss peppers, cheese and olives together in a bowl.

Whisk together the cream, mustard, vinegar and salt in a small bowl; whisk in the olive oil gradually until the dressing is emulsified.

Pour dressing over the salad; toss to coat.

Let salad sit at room temperature so flavors blend, 15 minutes.

Sprinkle with parsley; toss.

The salad may be assembled and dressed an hour in advance and refrigerated. Let sit at room temperature before tossing with parsley and serving. Serves 6.

Note: To roast peppers, Peel; scrape out seeds, coat with 3 tablespoons olive oil and 1/2 teaspoon salt.

Place on parchment-lined baking sheet. Roast in 300 degree oven, turning occasionally, until skins are wrinkled and slightly charred, 30 minutes. Allow to cool.