One Pan Italian Chicken and Potatoes
    One Pan Italian Chicken and Potatoes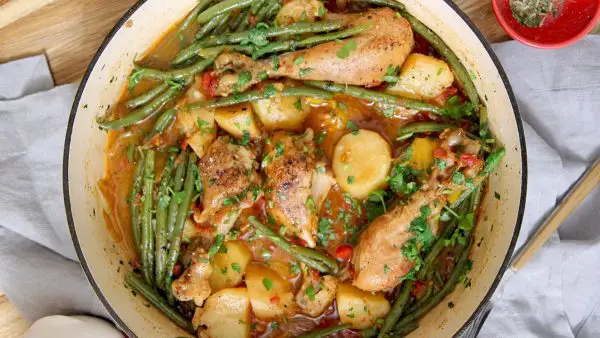 Ingredients
Serves 4

    2 Tbsp of Olive Oil

    1-1/2 lb of Chicken Drumsticks, skin removed

    1 Yellow Onion, roughly chopped

    2 Bell Pepper, chopped

    3 Cloves of Garlic, minced

    Garlic and Herb Seasoning

    Sprinkle of Slap Your Mama Seasoning, optional

    Salt and Pepper to taste

    14-1/2 oz can of Diced Tomatoes

    1 cup of Chicken Stock

    3 Tbsp of Chopped Parsley

    3 Large Potatoes, peeled and cut into large chunks

    A few handfuls of Thin Green Beans, trimmed and washed
Preparation
    1) In a large shallow dutch oven, add the olive oil, preheat over medium high heat, meanwhile season the chicken all over with the seasonings and a touch of salt and pepper, sear on all sides then remove to a plate and set aside.
    2) Add the peppers and onions, saute until tender, about 5 minutes, then add the garlic, cook one more minute, add the diced tomatoes and chicken stock then nestle in the chicken and potatoes, partially cover and simmer on medium heat for about 40 minutes or so.
    3) Scatter the green beans around the edges, give everything a good pinch of salt and pepper, cover and simmer for another 10 minutes, then sprinkle over the parsley and serve!