Orecchietta with Escarole and Chickpeas
Orecchietta with Escarole and Chickpeas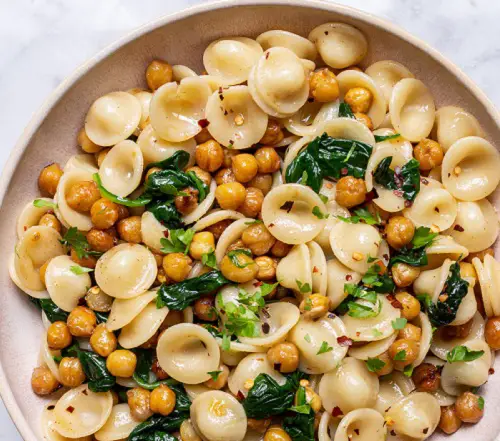 Orecchietta with Escarole and Chickpeas is a simple recipe to make and the flavor of the escarole gives this dish a special taste.

INGREDIENTS
Serves 4 people
1 pound of orecchietta pasta

1 bunch of escarole, washed, trimmed and cut into pieces

1 15oz can of chickpeas

1 small yellow onion, chopped

2 cloves of garlic, finely chopped

2 tbls of tomato paste

1/4 cup of extra virgin olive oil

1/2 tsp of salt

1/2 tsp of freshly ground black pepper

1/2 cup of freshly shaved or grated Romano or Parmigiano-Reggiano cheese
PREPARATION
To wash the escarole fill the sink up with cold water, cut the bottom off the bunch and let the leaves float in the water then rinse them under cold water to remove all the sand and dirt.

Steam the escarole until wilted and tender, around 8 to 10 minutes.

Saute the garlic in the oil for about 2 minutes.

Stir in the tomato paste.

Add the chickpeas smashing around half of them with a wooden spoon.

Season with salt and pepper.

In 5 quarts of salted boiling water cook the pasta until al dente, around 10 minutes.

Drain the pasta and toss into the chickpea mixture.

Toss in the escarole.

Serve with plenty of cheese.