Pan Fried Roasted Pepper Crab Cakes
Pan Fried Roasted Pepper Crab Cakes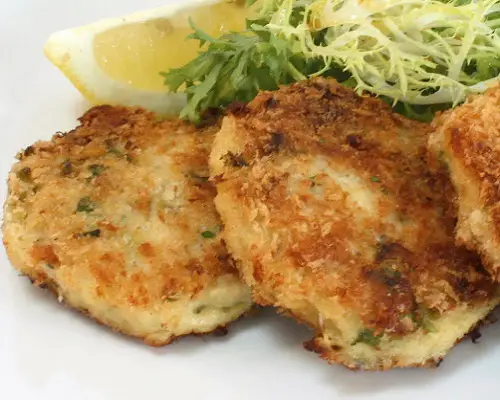 Ingredients
1 pound crabmeat, picked over to remove shells  (I used Dungeness crab)

4 green onions, green parts only, minced

1 tablespoon chopped fresh parsley

1 tablespoon chopped fresh cilantro

1-1/2 teaspoons Old Bay seasoning

4 tablespoons dry bread crumbs

1/2 cup roasted peppers, peeled, seeded and diced

1/4 cup mayonnaise

salt and pepper to taste

1 large egg

2 cups panko (Japanese bread crumbs)

1/2 cup vegetable or peanut oil for frying
Directions
Gently mix the crabmeat, green onions, herbs, Old Bay seasoning, bread crumbs, diced peppers and mayonnaise in a medium bowl, being careful not to break up the lumps of crab too much.

Season with salt and pepper.

Carefully fold in the beaten egg with a rubber spatula until the mixture clings together.

Divide the mixture into cakes based on the size you desire, making sure that all cakes are about the same thickness.

Place the formed cakes on a platter, cover with plastic wrap, and chill for at least 30 minutes.

Just before cooking remove the cakes from the fridge.

Place the panko in a shallow dish and dredge the crab cakes in it.

Heat the oil in a large skillet over medium-high heat.

 Gently lay the cakes in the skillet.  Pan-fry until the outsides are crisp and browned, about 4 minutes per side.

Use a paper towel to remove any excess oil and serve immediately.