Pan-Seared Chicken with Eggplant Sauce
Pan-Seared Chicken with Eggplant Sauce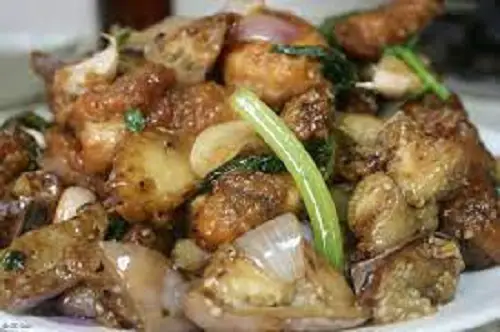 Ingredients
Yield: 4 SERVINGS
1 1/2 pounds (680 g) boneless, skinless chicken breasts or thighs

Salt and ground black pepper

1 teaspoon paprika

All-purpose flour

3 tablespoons (42 ml) olive oil

1 medium eggplant (about 12 ounces, or 340 g), unpeeled, cut into bite-size pieces

1 tablespoon (10 g) preminced oil-packed garlic

1/2 teaspoon fennel seed

1 jar (26 ounces, or 737 g) tomato marinara sauce with red wine

3/4 cup (175 ml) low-sodium chicken broth

2 teaspoons chopped fresh rosemary
Instructions:
Preheat oven to 350ºF (180°C, or gas mark 4).

Lightly season the chicken all over with salt and pepper and the paprika. Roll in flour, patting off the excess.

Heat 2 tablespoons (28 ml) of the oil in a large ovenproof skillet over medium-high heat. Add the chicken and brown all over, 4 to 5 minutes.

Remove to a platter and keep warm. Add the remaining 1 tablespoon (14 ml) oil to the skillet.

Lightly season the eggplant with salt and pepper and add to the skillet. Cook, stirring frequently, for 2 to 3 minutes. Add the garlic and fennel seed and cook for 1 minute.

Stir in the sauce, broth, and rosemary. Remove from the heat and return the chicken to the pan, spooning some sauce over top. Cover and bake until the chicken is no longer pink in the center (165ºF, or 75°C, on an instant-read thermometer), about 15 minutes.
For a meatier-tasting dish, brown 8 ounces loose Italian sausage in the skillet after searing the chicken. Serve with pasta.