Pan Seared Pork Chop with Thyme Pan Sauce
Pan Seared Pork Chop with Thyme Pan Sauce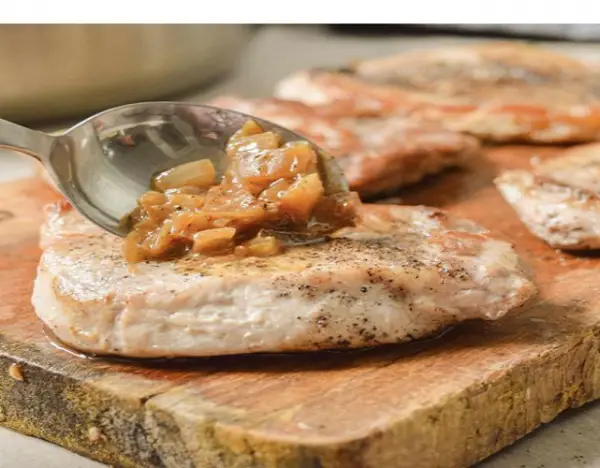 A well cooked pork chop is great. A well cooked pork chop with a great sauce is even better.
INGREDIENTS
1 tablespoon olive oil 4 (4-ounce)

4 boneless center-cut pork chops

salt

ground black pepper

1/4 cup minced shallots

1/2 cup dry white wine

1/2 cup chicken stock

2 fresh thyme sprigs

butter
TOOLS YOU NEED
Tongs

Knife

Cutting board

Wood spoon
PREP
Season your pork chops generously with salt and pepper and let them come to room temperature before cooking.
RECIPE DIRECTIONS
Heat an 

Abbio Sauté Pan over medium-high heat.

Add oil to the pan. 

Cook 4 minutes; turn and cook an additional 3 minutes or until done. Remove from pan.


After removing your chops from the pan, add the shallots and cook on medium for about a minute, or until they are softened.

Add your white wine, and use a wood spoon or hard spatula to remove any stuck bits from the surface of the pan – this is called deglazing.

Add your chicken broth and bring the sauce to a boil.

After about five minutes, or when your sauce has reduced by about a third, remove from heat, stir in butter, and add salt and pepper to taste.

Spoon over your dish and enjoy.