Pancetta Green Bean and Mushroom Bundles
Pancetta Green Bean and Mushroom Bundles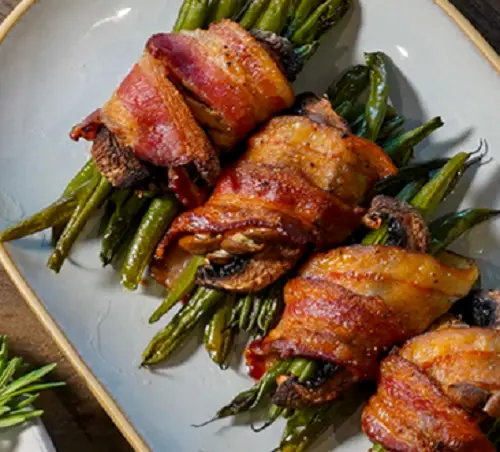 Pancetta, Green Bean and Mushroom Bundles

Ingredients
1 pound Pancetta

1 pound green beans, trimmed and blanched*

4 ounces mushrooms, sliced (any variety or a mix such as portobella, beech, cremini, button etc.)

salt

pepper

4" wooden skewers, optional
1 

Preheat the oven or grill to 425°F.
2 

Lay out a piece of pancetta and top with 6-8 green beans, a few sliced mushrooms and sprinkle with salt and pepper.
3 

Wrap the pancetta around the green beans and mushrooms to form the bundles, and secure with a small skewer. (see notes)
4 

Place on a sheet pan and bake for about 20 minutes, until the pancetta is crispy.
5 

Recipe notes: Plan on one bundle per person, and a few extras. It's best to cover more of the green beans with the pancetta in a single layer diagonally, as opposed to wrapping it only around the center. Doing so will ensure the green beans and mushrooms won't burn, and the pancetta can get crispy and cook through. Remove the skewers before placing on a serving platter.
*To blanch the green beans, place in boiling water for 60-90 seconds, then place in an ice bath to stop the cooking. The beans will turn a bright green color and this will help them in the cooking process to keep the ends from burning. Dry the green beans before assembling the bundles.