Pappardelle Norcina : Original Umbrian Recipe
Pappardelle Norcina : Original Umbrian Recipe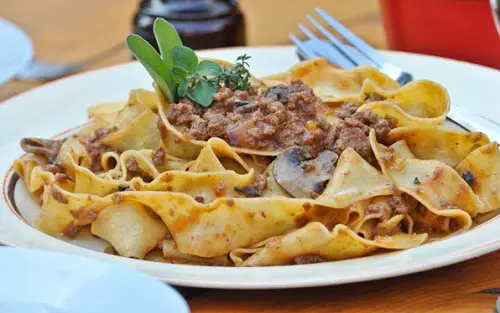 Ingredients
1 pound pappardelle

     8 ounces baby Bella mushrooms diced

     1 pound bulk mild Italian sausage

     ¼ cup olive oil

     1 small onion diced

     3 cloves garlic

     ½ cup dry white wine

     1 ½ cups heavy cream

     2 cups reserved pasta water will not need it all

     1 pinch nutmeg

     ¾ cup Pecorino Romano grated

     salt and pepper to taste
Instructions
Bring a large pot of salted (2 tablespoons kosher salt) water to boil.

    Heat a large pan to medium heat then add in the olive oil and sausage. Brown the sausage (about 5-7 minutes) then make some room in the pan and add the mushrooms and continue to cook until they brown as well.

    Once the sausage and mushrooms are brown add the onion and garlic. After 2 minutes remove the garlic from the pan and discard. Continue cooking for a few more minutes until the onions are soft.

    Turn heat to medium-high and add the wine. Cook for a minute to reduce the wine by about half. Scrape the bottom of the pan with a wooden spoon to remove all the brown bits. At this time begin cooking pasta to a bit less than al dente.

    Add the cream and bring sauce to a simmer while stirring. Once simmering turn the heat down to low.

    Once pasta is almost al dente add it to the sauce and mix to coat. Turn heat to medium. Add a bit of pasta water if needed to loosen things up. Continue to cook, stirring frequently, until the pasta is perfectly al dente.

    Turn the heat off and remove the pan from the heat. Add the Pecorino, mix well, then taste test. Season with a good amount of black pepper, a pinch of nutmeg, and salt to taste. Serve with grated Pecorino. Enjoy!