Pappardelle with Wild Mushrooms
Pappardelle with Wild Mushrooms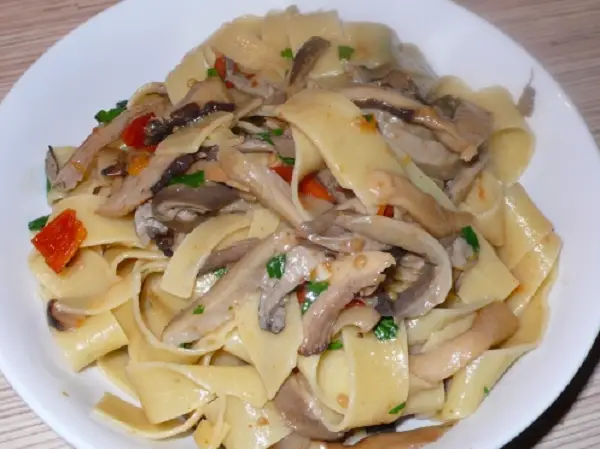 Ingredients
    1 pound fresh wild mushrooms

    2 large cloves of garlic, crushed and left whole

    4 over ripe cherry tomatoes

    1/2 cup dry white wine

    3 tbsp extra-virgin olive oil

    3 tbsp finely chopped fresh Italian Parsley

    tab of butter

    1/2 lb of pappardelle pasta, fresh would be amazing, but the dry nests are pretty good too

    salt to taste
Directions
Fill a large pot with water for the pasta. Bring to a boil over high heat.

Using a soft brush or a clean kitchen towel, remove any dirt from the mushrooms. Remove and discard any tough stems or woody parts. Slice the mushrooms thinly.

Heat oil in a wide saucepan over medium-high heat and add the whole cloves of garlic. When garlic starts to sizzle add the whole tomatoes, tossing occasionally, allowing the tomatoes to break down a bit. After about a minute, using the back of your spoon press on the tomato so that it releases its juices and breaks up. Add the mushrooms at this point and sauté them until they are softened and release their liquid into the pan, 8 to 10 minutes. Add the white wine and raise the heat to medium and continue cooking until the liquid evaporates.

Once the water starts to boil for the pasta add a small handful of salt to the water and bring to a rolling boil. Add the pasta and cook until al dente.

When the pasta is perfectly al dente, reserve a cup of the pasta water in case the pasta dries out when tossing it. Turn up the heat under the mushrooms and drain the pasta. Without shaking all of the water out of the colander pour the pasta into the pan and toss it with the sauce. This allows for the pasta to cook a little longer in the sauce and to absorb the flavor. Add the reserved pasta water if needed. Turn the heat off and toss the pasta with the parsley and the tab of butter until the butter is melted and coating the pasta.