Parmigiana di Carciofi Artichoke Parmigiana
Parmigiana di Carciofi Artichoke Parmigiana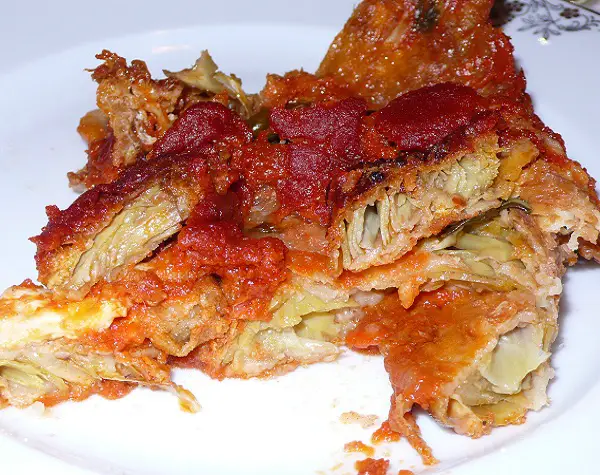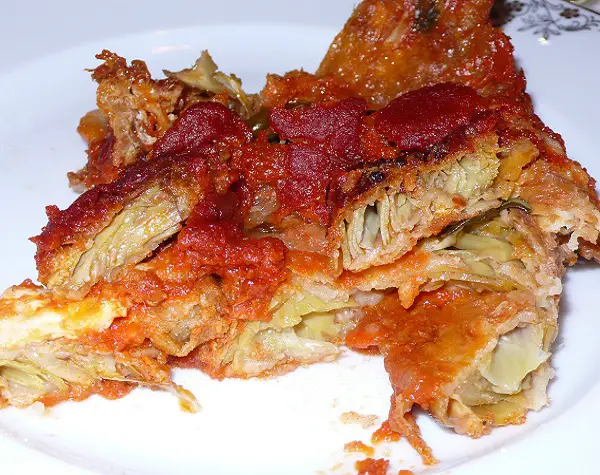 Ingredients
    4 – 5 artichokes

    2 cups of tomato sauce, or ragù if you have it

    2-3 eggs, beaten

    Flour, as much as needed to coat the artichokes

    2 or 3 medium balls of mozzarella, cut into small cubes

    oil for frying the artichokes, enough to fill the pan an inch or two

    Extra virgin olive oil for the sauce

    Fresh basil, about a cup packed

    Paper towels
Directions
Prepare a bowl with cold water and lemon juice.

Clean the artichokes by eliminating their outer leaves; you can do this by bending them and snapping them off. Do this until you get to the leaves that are lighter in color.  Cut off the tip of the central cone, to eliminate the tougher green end of the leaves. Cut the heart in half and scoop out the inside chokes with a knife or a small spoon. Cut the artichoke into thin slices, leaving them in a horseshoe shape and immerse in the lemon water.

Beat the eggs in a bowl and put the flour on a separate plate. Heat the oil in a frying pan over medium heat until it sizzles when you drop some flour  in the oil. This indicates that the oil is ready for frying.

Dredge slices of artichokes in the flour, shaking off the extra flour and then smother with the beaten eggs. When it is well coated carefully ease into the hot oil, repeat with as many slices as will fit into your frying pan without crowding. This is the most time consuming part of the process, you have to fry the artichokes in batches. Let the artichokes brown on both sides turning after about a minute or two. When they are golden brown remove from the hot oil, hold them over the oil to drain of excess oil and place on a plate lined with paper towels. Repeat this process with the rest of the zucchini, piling them on the plate with paper towels between each layer.

In the meantime heat about 1 tbsp of extra virgin olive oil in a small saucepan, pour in the tomato purée and a few basil leaves, allow to simmer at a medium-low heat until needed to create the parmigiana.

Preheat the oven to 350°

When the artichokes slices are all fried, lightly coat the bottom of a baking dish with the tomato sauce like you would for a lasagna. Place one layer of artichokes on the tomato sauce, pressing out any excess oil with fresh paper towels as you work down the stack. Using all of the mozzarella, spread on that first layer of artichokes and pour another thin layer of tomato sauce on top, sprinkling on the rest of the basil. Place the second layer of artichokes on the mozzarella, top the parmigiana with tomato sauce and parmigiano reggiano and place in the preheated oven for 20 to 30 minutes.

When it is done, allow to sit for at least 10 minutes. This is also great the next day, cold or reheated.