Pasta Milano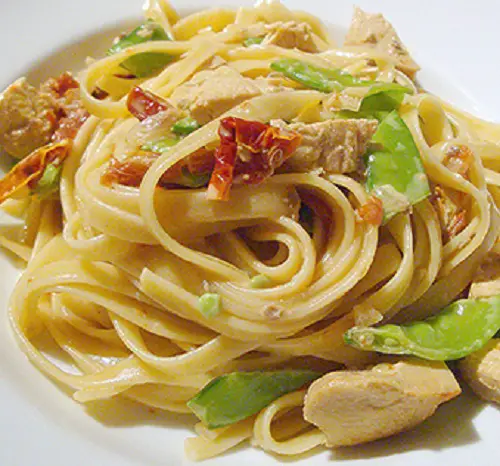 Ingredients
Serves 4
3 Tbsp. butter

1 medium onion, diced

2 grilled chicken breasts, sliced

5 oz. sun-dried tomatoes, coarsely chopped

10 oz. 35% cream

10 oz. chicken stock

1 cup snow peas, sliced into 1″ pieces

salt to taste

pepper to taste

500 g. linguini
Directions
Begin by cooking linguini in boiling salted (1 Tbsp.) water to al dente.

To make the sauce, add butter and onion to a large sauté pan over medium-high heat and cook for 1 – 2 minutes.

Add grilled chicken and sun-dried tomatoes and sauté for 1 – 2 minutes.

Add chicken stock, cream, salt and pepper, reducing sauce slightly.

Add snow peas, then linguini just seconds later.

Allow linguini to cook with sauce for 30 seconds and enjoy.