Pasta Salad with Pancetta
Pasta Salad with Pancetta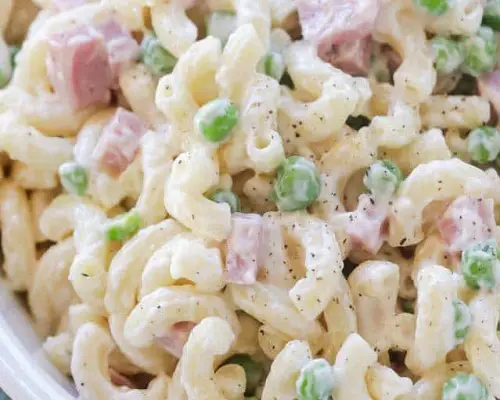 INGREDIENTS
1 pound of elbow macaroni or your favorite shaped pasta.

6 oz of pancetta, chopped

2 stalks of celery, chopped

1 medium sized onion, chopped

1 small red bell pepper, chopped

1 carrot, chopped

1 small can of baby sweet peas, drained

1 small can of crushed pineapple, drained

1 cup of mayonnaise

1/2 tsp salt

1/2 tsp of freshly grated ground pepper
PREPARATION
Bring 6 quarts of salted water to a boil and cook the pasta until al dente. Around 10 minutes. Drain and set aside to cool.

In the meantime, sauté the pieces of pancetta until crisp. Drain on a paper towel.

In a large bowl, add the pasta and stir in the celery, onions, red peppers, carrots, peas and pineapple.

Add the pancetta.

Thoroughly mix in the mayonnaise.

Season with salt and pepper.

Chill well before serving.