Pasta Salad with Prosciutto, Asparagus, Black Pepper, and Romano
Pasta Salad with Prosciutto, Asparagus, Black Pepper, and Romano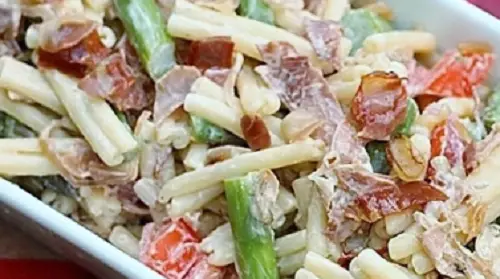 Ingredients
8 ounces uncooked cavatappi pasta or elbow macaroni

3 cups (1 1/2-inch) slices asparagus (about 1 pound)

1 teaspoon olive oil

2 ounces prosciutto, chopped

1/2 cup thinly sliced shallots

6 tablespoons light mayonnaise

1 teaspoon grated lemon rind

1 tablespoon chopped fresh tarragon

2 tablespoons fresh lemon juice

1 teaspoon freshly ground black pepper

Dash of salt

1 cup diced tomato

1 1/2 ounces pecorino Romano cheese, grated (about 1/3 cup packed)
Cook pasta according to package directions, omitting salt and fat.

Add asparagus during the last 2 minutes of cooking.

Drain and rinse under cold water; drain.

Heat a large nonstick skillet over medium-high heat.

Add olive oil to pan, and swirl to coat.

Add prosciutto, and cook for 6 minutes or until crisp, stirring occasionally.

Remove prosciutto from pan using a slotted spoon, leaving drippings in pan.

Drain prosciutto on paper towels.

Add the shallots to drippings in pan; cook over medium heat for 1 minute or until shallots are tender, stirring frequently.

Combine mayonnaise, lemon rind, tarragon, juice, pepper, and salt in a large bowl; stir well.

Add pasta, asparagus, three-fourths prosciutto, shallots, tomato, and cheese; toss well to coat.

Top servings evenly with remaining prosciutto.