Pasta Sauce with Pork Chops
Pasta Sauce with Pork Chops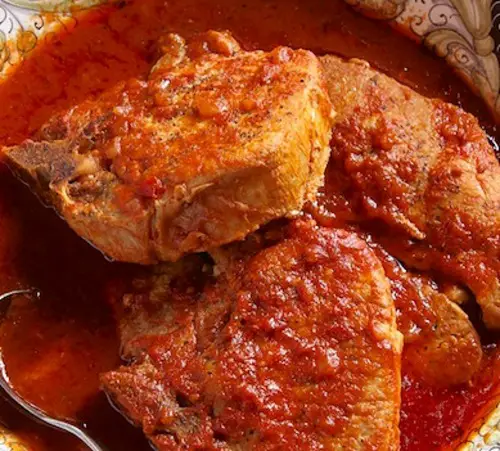 Ingredients:
4 thick bone-in pork chops (I used center cut loin chops, bone in)

salt and pepper

3 Tablespoons extra virgin olive oil, divided

½ cup diced onion

2 garlic cloves, minced or grated

½ cup white wine

24 ounces pureed San Marzano tomatoes

½ teaspoons red hot chili pepper

1 teaspoons dried oregano
Instructions:
Preheat the oven to 325° F.

Season the chops on both sides well with salt and pepper.

Heat 1 Tablespoon of the olive oil in a large dutch oven over medium high heat. Brown the chops in two batches.  You want a nice golden brown crust on both sides.  Don't move them for a few minutes, to make sure you have a nice browning going on and then you can flip them.

Remove from the pot and lower heat.  Do not wipe out pot.  Add 2 Tablespoons of the olive oil and the onion and cook gently for about 5 minutes.

Add the minced garlic and cook for 1 minute.  Increase heat to medium high, add the white wine and cook for about 3 minutes, scraping up any brown bits on the bottom of the pot.

Add the pureed tomatoes, chili pepper, oregano and a little salt and pepper.

Place chops back in pot, making sure to coat the ones on top in the tomato sauce if they are not fully submerged.  Don't worry if they are not totally covered by the tomato sauce because you will rotate them halfway through the cooking.

Cover the pot and place in the oven and cook for about 1 hour.

Remove the pot and carefully remove the chops to rotate them – the top ones go on the bottom and the ones that were on the bottom can go on top.  Place cover back on and cook for one more hour.  Check for doneness. This will depend on how thick your chops are and what cut you used.  They should be very tender. When I use extra thick chops, I will cook them for almost 3 hours.  If they are not tender, you can cook for another 20 minutes and keep checking the tenderness.  Check for seasoning and add more salt and pepper if you like.

To serve, I take a ladelful or two of the sauce and toss with the pasta in a serving bowl.  The chops with the rest of the sauce goes in a different serving bowl.  People can serve themselves and add as much sauce to their pasta as they like.  Serve with lots of grated Parmesan cheese if you like.