Pasta with Broccoli Rabe and Italian Sausage
Pasta with Broccoli Rabe and Italian Sausage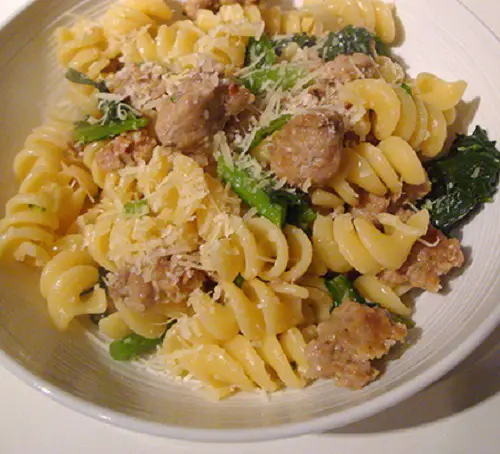 Ingredients
Makes 4 servings
1/2 pound pasta (fusilli is what I used, orecchiette would be good too)

1/2 of a bunch of broccoli rabe, chopped into 1- to 2-inch pieces

1 tsp. olive oil

5 mild Italian sausages

1 tsp. minced garlic

2 oz. Parmesan cheese, grated
Preparation
Remove sausage meat from casings and crumble into small pieces.

Heat the olive oil in a frypan over medium heat, then add the crumbled sausage and garlic and cook until the sausage is browned (8 – 10 minutes).

Steam the chopped broccoli rabe until cooked (3 – 5 minutes).

Cook the pasta according to the package directions, then drain.

Add the cooked sausage, garlic and steamed broccoli rabe to the pasta.

Toss to combine, then serve with Parmesan cheese on top.