Pasta with Chicken, Almonds and Creamy Mascarpone Sauce
Pasta with Chicken, Almonds and Creamy Mascarpone Sauce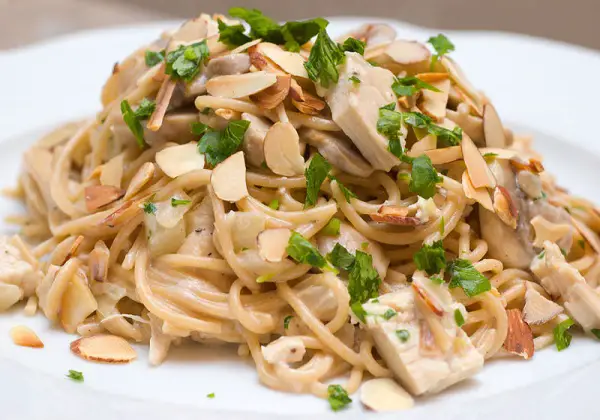 Ingredients:
2 boneless, skinless chicken breasts

4 tbsp extra virgin olive oil

1 tbsp unsalted butter

1/2 yellow onion, diced

3 cloves garlic, minced

8 oz mushrooms, sliced

6 oz Mascarpone cheese

1 cup pasta water

1/2 cup sliced almonds, toasted

Parmesan cheese, grated

1/4 cup fresh parsley, minced

Salt & Pepper, to taste
Directions:
Preheat oven to 350 degrees F.  Place the chicken breasts in an ovenproof baking dish. Drizzle the chicken with about 1-2 tbsp of the olive oil, season with salt & pepper, and bake for approximately 30 – 40 minutes, or until chicken is cooked through.

Bring a large pot of salted water to a boil and prepare the pasta according to the package directions.  Be sure to reserve at least 1 cup of the pasta water, which will be added to the sauce later.

While the chicken is baking, begin your pasta sauce.  First, heat a large dutch oven or saucepan over medium heat.  Drizzle about 2 tbsp. of olive oil into the pan, along with 1 tbsp of butter.   Once pan is hot and butter is melted, add the onion and mushrooms, and saute for about 5 – 7 minutes.  Next, add the garlic and saute for a few minutes more until the onions and mushrooms are very tender and golden brown.  Be careful not to burn the garlic!

Now, add the Mascarpone cheese to the pan and stir into the other ingredients until it starts to melt.  Next, add 1 cup of the hot, reserved pasta water and stir until well combined.  Let the sauce simmer until it begins to thicken.  The starches in the pasta water will help form a nice, thick sauce!  Taste for seasoning, and add salt and pepper, to taste.

Once the chicken is done, cut it into bite-sized pieces while the sauce is simmering and add it all to the pot.  If the sauce becomes too thick, simply add a little more pasta water.  Add the fresh parsley (reserving some for garnish) and stir well.

Once the sauce is ready, drain the pasta and add it directly into the pot of sauce.  Next, sprinkle the almonds and grated Parmesan cheese over the pasta.  Mix everything together well, coating all the pasta with the yummy sauce.  Finish it off with a garnish of fresh parsley and more sliced almonds.  Serve hot and enjoy!