Pasta with Raw Tomatoes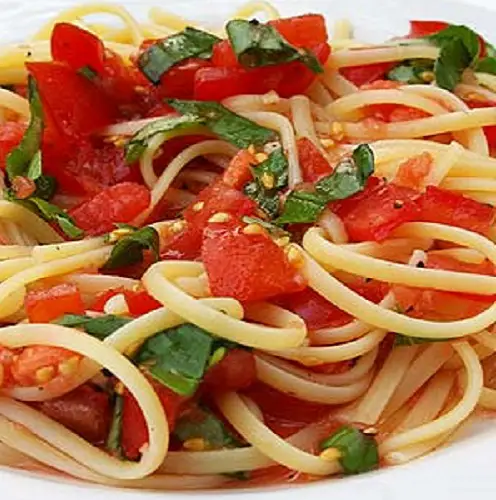 Ingredients
3 to 4 tbsp olive oil

2 to 3 very ripe, medium-size tomatoes, seeded and chopped (see Notes)

hand-torn basil leaves, more for garnish.

2 anchovies, minced + more, whole, for garnish (optional)

1 clove garlic, grated

salt and pepper, to taste

1/3 lb (150 g) cooked tagliatelle (see Notes)

grated Pecorino Romano cheese (optional)
Directions
Seed and chop the tomatoes.

 In a large bowl, place the tomatoes, basil, garlic, anchovies (if using), and olive oil. Gently mix to combine. Cover and set aside.

After about an hour, bring a large pot of salted water to the boil. Add the pasta and, following package directions, cook until al dente. Drain the pasta, reserving about a cup of the pasta water.

Add the hot pasta to the raw tomato sauce and gently stir. If overly dry, add some of the reserved pasta water to moisten. (See Notes)

Move to a serving platter and garnish with more torn basil and, if using, grated cheese and whole anchovies.
Notes
You can use any tomatoes for this recipe just so long as they are ripe. I seed "regular" tomatoes but only halve cherry tomatoes when using.
Use any type of pasta you prefer.