Peach Amaretto Zucchini Bread
Peach Amaretto Zucchini Bread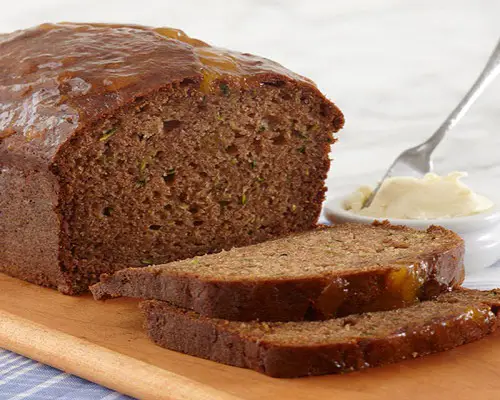 Ingredients
3 eggs

3/4 cup oil

1/4 cup buttermilk

1 cup sugar

1 teaspoon vanilla

2 cups raw zucchini, unpeeled and grated

2 cups all-purpose flour

1 1/2 teaspoons baking soda

1/2 teaspoon baking powder

1 teaspoon salt

2 teaspoons ground cinnamon
Directions
Preheat oven to 350° F. Grease and lightly flour 9×5-inch loaf pan. Place oven rack in lower third of oven.

In a mixer fitted with a paddle attachment, or use a hand mixer, beat eggs, oil, sugar, Peach Amaretto Jam, and vanilla until thick (approximately 1 minute at medium/high speed).

Add buttermilk and grated zucchini to mixture and combine.

Put dry ingredients together in bowl, whisk to thoroughly combine, then place dry on top of wet mixture, folding gently until just blended. Do not over mix.

Pour into prepared pan and bake for 60-80 minutes, or until toothpick comes out clean.(Loosely cover loaf with foil if browning too quickly towards end of bake time).

Cool on rack for 15 minutes, then remove from pan. Glaze bread while still warm with remaining 1/2 cup Peach Amaretto Jam.