Pearl Barley Salad with Herb Pesto, Roasted Tomatoes and Tuna
Pearl Barley Salad with Herb Pesto, Roasted Tomatoes and Tuna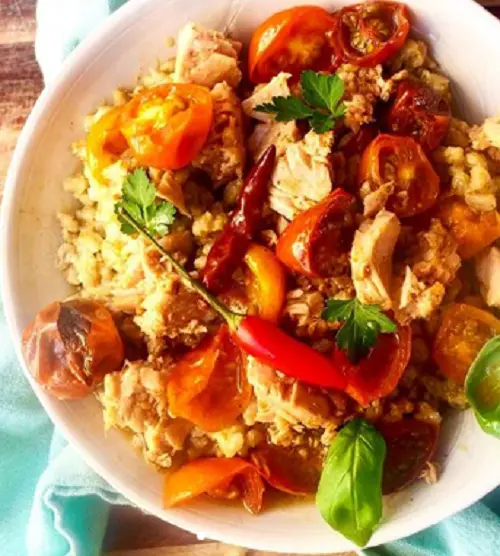 Serves 4
200 gr of Pearl barley
100 gr of natural almonds
1 cups of basil leaves
1 cup of parsley leaves
1/4 garlic clove
200 ml of extra-virgin olive oil
salt and pepper for seasoning
juice of 1 lemon
2 cups of mixed cherry tomatoes, some whole some halved
285 gr of Tuna
Boil the barley in salted water until al dente. Drain and set aside. Whilst the barley is cooking place tomatoes in a roasting tin with 50 ml of the oil, salt and pepper. Roast for 30 minutes or until they start to burst.
Make the herb pesto by blitzing the almond and garlic in a food processor. Add herbs, the the remaining olive oil. Whiz until smooth. Season with salt and pepper and the juice of half a lemon.
Toss the grains with the pesto, add the chunks of tuna, the roasted tomatoes and their juices and drizzle with the remaining lemon juice. Serve with extra basil leaves, if liked.
Note: you can make this salad using quinoa, farro or brown rice instead of pearl barley. You can use cashew nuts instead of almonds.