Penne alla Boscaiola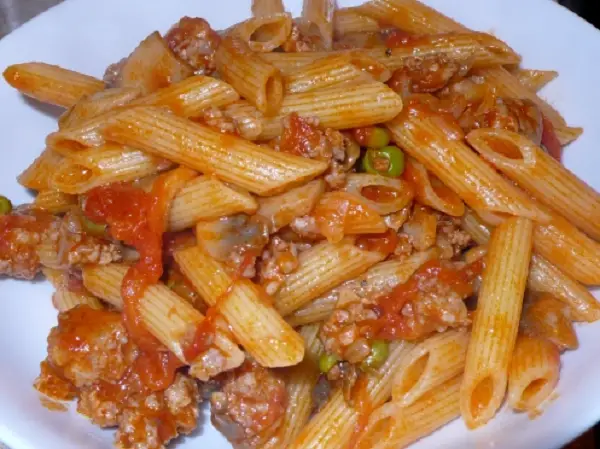 Pasta alla Boscaiola is an Italian classic, eaten in Fall when the wild mushrooms grow abundantly in the Italian forests. It's hearty and flavorful comfort food, with a creamy delicious sauce with all the flavors of fresh mushrooms

Ingredients
    2 mild Italian sausages, casings removed

    1/2 an onion, chopped

    1 cup of white button mushrooms, sliced

    1/2 cup of green peas

    2 cups of san marzano tomatoes

    2 tbsp extra virgin olive oil

    1/2 lb of penne pasta

    Salt for pasta water

    Grated parmigiano reggiano
Directions
Fill a large pot with water for the pasta. Bring to a boil over high heat.

Heat oil in a wide saucepan over medium-high heat and add onions, cook until the onions are transparent, stirring frequently.

Add sausages, breaking them up with a wooden spoon as they cook.

When the sausages are broken up and cooked through, add the mushrooms.

Let the mushrooms release their juices before adding the tomatoes, 1 to 2 minutes.

 Add the peeled tomatoes, squishing them in your hands over the pan to break them up.

 Bring to a simmer, add the peas and lower the heat to medium-low.

Once the water starts to boil for the pasta add a small handful of salt to the water and bring to a rolling boil. Add the pasta and cook until al dente.

When the pasta is perfectly al dente, turn up the heat on the sauce and drain the pasta.

Without shaking all of the water out of the colander pour the pasta into the pan and toss it with the sauce. This allows for the pasta to cook a little longer in the sauce and to absorb the flavor.

Serve with grated parmigiano reggiano.