Penne with Acorn Squash and Pancetta
Penne with Acorn Squash and Pancetta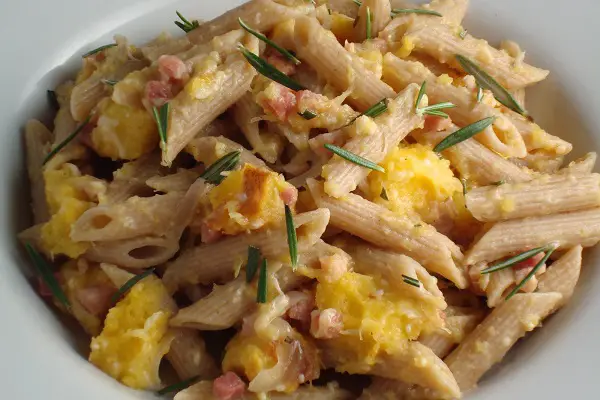 Ingredients
Serves 4
1 acorn squash

1 small head of garlic

1/2 pound penne

2 teaspoons olive oil, plus more for coating squash and garlic

4 ounces pancetta, diced

1 shallot, thinly sliced

1/4 cup chicken or vegetable stock

1 teaspoon chopped, fresh rosemary

1/4 cup grated Parmesan
Directions
Preheat the oven to 400 degrees

Slice the squash in half and remove the seeds with a spoon. Cut each half crosswise into wedges, about 1/2-inch thick. Toss the wedges with a splash of olive oil until coated, and spread on a baking sheet. Season with salt and pepper.

Slice the top off of the garlic head so that the tops of the cloves are exposed. Drizzle on a bit of olive oil, sprinkle with salt and pepper, and wrap in aluminum foil. Place on the edge of the baking sheet with the squash.

Bake the squash and garlic for about 30 minutes, turning the squash once, until it is soft and slightly caramelized. (Depending on how big the head of garlic is, it may take longer. Leave it in the oven while you peel and chop the squash.)

Allow the squash to cool slightly. In the meantime, bring a pot of salted water to boil (for the pasta). Then, peel each wedge of squash and cut into large chunks.

Heat the 2 teaspoons of olive oil over medium heat in a medium stock pot or large, wide sauce pan. Sauté the pancetta until most of the fat is rendered and the meat is crispy, about 15 minutes. About halfway through, cook the pasta.

When the pancetta is finished cooking, remove with a slotted spoon and set aside. Add the shallots to the pan and cook until translucent, about 3 minutes. Deglaze the pan with the broth, scraping up any brown bits on the bottom. Stir in the rosemary and about four cloves of the roasted garlic, mashing them up in the liquid with the back of a spoon or spatula.

Add the chunks of squash and pancetta to the pan. Drain the pasta, reserving about 1/2 cup of the cooking water, and add the pasta to the squash/pancetta mixture. Toss everything to coat, then stir in the Parmesan. Add a bit of the pasta water if the mixture seems too dry.