Pepperoni Pizza Puffs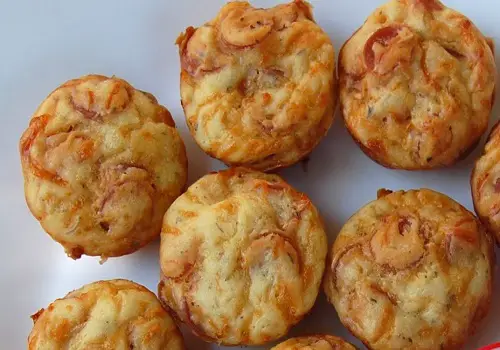 Ingredients
3/4 cup flour

3/4 teaspoon baking powder

1 tablespoon pizza seasoning

3/4 cup whole milk

1 egg, lightly beaten

1 cup shredded mozzarella cheese

1/4 cup grated parmesan cheese

1 package mini pepperoni rounds (or 1 cup cubed pepperoni)

1/2 cup store-bought pizza sauce
Directions
1. Preheat the oven to 375 degrees. Grease a 24-cup mini-muffin pan. In a large bowl, whisk together the flour, baking powder and pizza seasoning; whisk in the milk and egg. Stir in the mozzarella, parmesan and pepperoni; let stand for 10 minutes.
2. Stir the batter and divide among the mini-muffin cups. Bake until puffed and golden, 20 to 25 minutes.
3. Meanwhile, microwave the pizza sauce until warmed through. Serve the puffs with the pizza sauce for dipping.