Pesto Chicken with Italian Three Chee
Pesto Chicken with Italian Three Cheese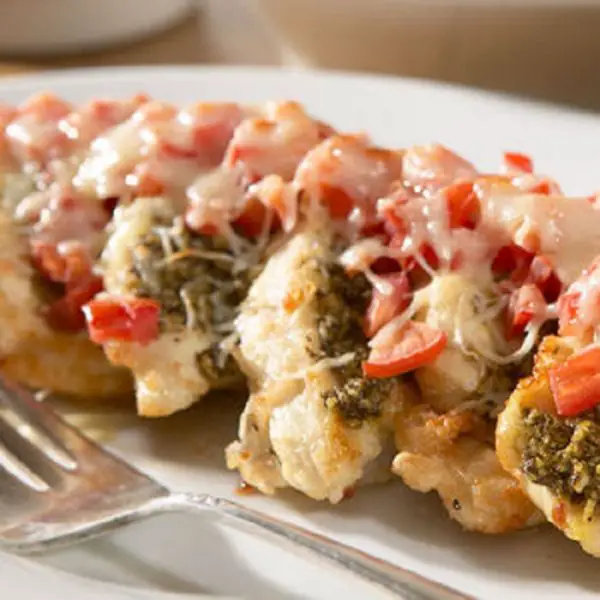 Ingredients
4 large boneless, skinless, chicken breasts (approximately 1-1/2 pounds)
1/2 cup flour
Salt and pepper
2 Tablespoons butter
2 Tablespoons olive oil
1/2 cup Stonewall Kitchen Basil Pesto
3 medium tomatoes, seeded and chopped into 1/4-inch pieces
1/3 cup Mozzarella cheese, shredded
1/3 cup Provolone cheese, shredded
1/3 cup Parmesan cheese, shredded
Directions
Trim and pound boneless chicken breasts. Cut into quarters.
Combine the flour, salt and pepper in a shallow bowl.
Dredge the chicken on both sides.
Heat the butter and olive oil in a skillet over medium-high heat. Add the chicken and cook 5 minutes per side or until the chicken is cooked through and golden brown. Remove and place chicken in an ovenproof baking dish.
Spread approximately 1 Tablespoon Basil Pesto over each piece of chicken. Sprinkle chopped tomatoes over pesto and top with the cheeses. Place the dish under the broiler and heat until the cheese is bubbly. Serve immediately.