"Pizza gaina" or "Pizza keen" – Italian Easter Pie – Rossella
Pizza Rustica – 
Pizza gaina
Pizza chiena
Italian Easter Pie Recipe 
Rossella's cooking with Nonna
*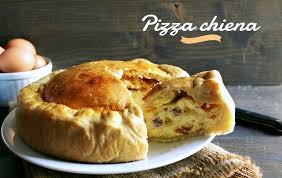 Both of my Italian Grandmothers made what we called Pizzagiena or one version of an Italian Easter Pie.
Grandmom Julie was from Basilicata and Grandmom Madeline was from Calabria.  Yet they both made it pretty much the same way.
It was made with diced cold cuts, and had a egg and cheese filling to bind it together. A slice of this pie looked spectacular. It revealed cross sections of hard boiled eggs, chunks of Sopressata, Salami, Pepperoni, and ham and/or prosciutto, and cheese.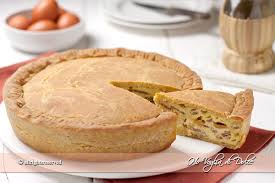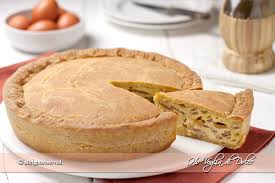 Interestingly we each called it something different. Some people called it "Easter Pie", others Pizza Rustica and then rest called it Pizzagaina which sounded to us like Pizzakeen to us.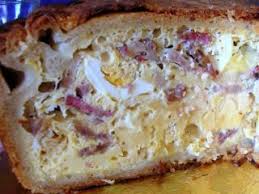 Some history on what we know in our family's dialect as Pizzakeen but properly written in Italian as
Pizzachiena. 
Typically prepared at Easter in parts of Southern Italy and in some Italian immigrant communities in the northeastern United States Pizzachiena is essentially a baked savory pie filled with a mixture of various cheeses, meats and eggs.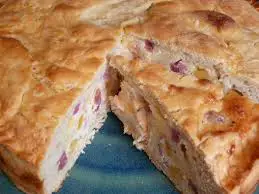 I find it interesting in following the process of translation and adaptation of pizza chiena as it moved between these two worlds of Southern Italy and the northeast United States.
Analyzing a family recipe introduces a number of dimensions of variability in both the Italian and English names given to the dish in Italy and the northeastern United States as well as in the form, content and preparation methods.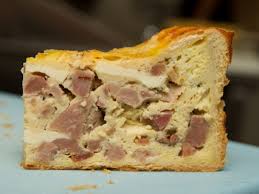 It is known as different names depending on the region. And there are different recipes and pies that further the confusion.
I never actually ever got my Nana's recipe for Pizzakeen as we knew it. ,  But after much research we have found a number of Italian chefs that make Pizzachiena the way I remember it. Rossella is one. This is an excellent variation of Pizza Rustica or Pizzakeen or Pizzachiena or traditional Southern Italian Easter Pie…. 
*
*
Then Join Dominic and Frank on Facebook at Everybody Loves Italian where we forever celebrate Life, Love and the Italian Experience. 
*
Visit us on the web at www.EverybodyLovesItalian.com