Pollo in Potacchio (chicken in a pot)
Pollo in Potacchio (chicken in a pot)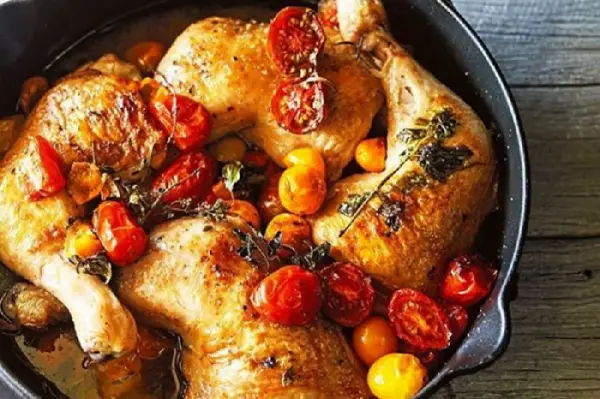 Every town, village and hamlet in the Marche area has a variation on this recipe.

INGREDIENTS
1/4 cup (60ml) extra virgin olive oil

4 garlic cloves, skin on, bashed with the back of a knife

2-3 rosemary sprigs

Handful of oregano leaves

4 chicken marylands (leg and thigh portions), excess fat removed

200ml white wine

250g cherry tomatoes, some kept whole, some cut in half

Crusty bread, to serve
METHOD
1. Preheat the oven to 220°C.
2. Heat the olive oil in a large ovenproof frypan or flameproof casserole over medium-high heat. Add the garlic and herbs, and cook for 1-2 minutes, then remove and set aside. Add the chicken and cook for 10-12 minutes on each side until browned. Deglaze the pan with the white wine and simmer for 1-2 minutes to allow the alcohol to evaporate, then season with salt.
3. Scatter over the cherry tomatoes and return garlic and herbs to the pan. Transfer the pan to the oven for 20-25 minutes until chicken is cooked through.
4. Serve hot or warm, with bread to mop up the heavenly, wine-infused sauce.