Pork Scallopini with Mushrooms and Marsala Sauce
Pork Scallopini with Mushrooms and Marsala Sauce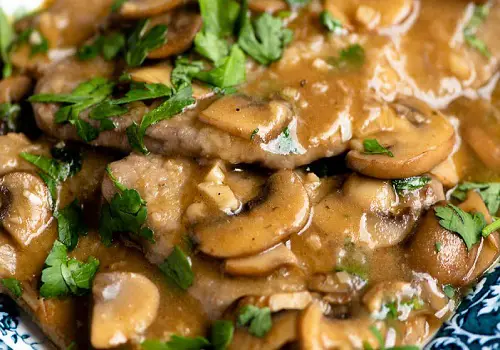 Ingredients
1/4 cup olive oil, plus more as needed

1/2 pound white button or cremini mushrooms, cut into slices 1/4 inch thick

Salt and freshly ground pepper, to taste

1 1/2 pound boneless pork loin roast, trimmed of excess fat and cut into 8 slices

1 cup all-purpose flour

3/4 cup marsala finishing sauce

Finely chopped fresh flat-leaf parsley for garnish
Directions
1. In a large fry pan over medium-high heat, warm 1 tablespoon of the olive oil. Add the mushrooms and cook, stirring occasionally, until golden brown and tender, 5 to 7 minutes. Season lightly with salt and pepper. Transfer to a small bowl and set aside.
2. One at a time, place the pork slices between 2 sheets of plastic wrap and pound with a meat pounder to 1/4-inch thickness. Season both sides with salt and pepper. Put the flour in a shallow bowl. Dredge the pork slices in the flour, shaking off the excess, then place the slices in a single layer on a baking sheet.
3. In the same fry pan over medium-high heat, warm the remaining 3 tablespoons oil until almost smoking. Working in batches (do not overcrowd), cook the pork slices, turning once, until golden brown, 2 to 3 minutes per side, adding more oil to the pan as needed. Transfer the pork to a paper towel-lined baking sheet and cover loosely with aluminum foil.
4. Wipe out the pan with paper towels. Set the pan over medium-low heat, pour in the marsala finishing sauce and add the mushrooms. Stir until the sauce is warmed through, 1 to 2 minutes; do not allow it to reduce.
5. Transfer the pork to a warmed platter and spoon the sauce over the meat, coating the slices evenly. Garnish with parsley and serve immediately.