Pork Scaloppine with Wild Mushrooms
Pork Scaloppine with Wild Mushrooms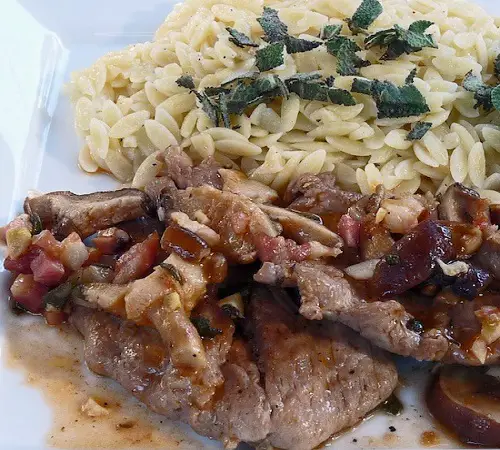 Ingredients
Serves: 4
Prep: 20 minutes
Cook: 30 minutes
About 1 1/3 lb. Pork Tenderloin

3 Tbsp. Olive Oil

1/4 lb. Chopped Pancetta

2 Cloves Fresh Garlic, chopped finely

3 Tbsp. Chopped Fresh Sage

3/4 lb. Wild Mushrooms, cleaned and sliced

3/4 c. Dry Vermouth

1 Tbsp. Tomato Paste

Fresh Sage Leaves for garnish
Instructions
Slice your tenderloin into thin cutlets. Steady the tenderloin with your left hand while you cut the very thin slices from the top middle out, slicing away from you. Use the entire pork tenderloin.

Heat olive oil and pancetta in a large shallow pan or fry pan.

Cook a couple of minutes.

Add the pork scallops and brown quickly just a couple of minutes each side. Don't worry if they are still a little pink in spots, as they will cook through later. Remove scallops to a separate dish.

In the same pan, add the garlic, sage and mushrooms. Sauté a couple of minutes.

Add the pork scallops back to the pan, stir.

Dissolve the tomato paste in the vermouth and add it to the pan. Stir and reduce down a little, scraping bits off the pan bottom for a couple of minutes. Add salt and pepper to taste.

Cover and simmer about 5 minutes.

Garnish with sage leaves and serve.