Pork Shank Osso Buco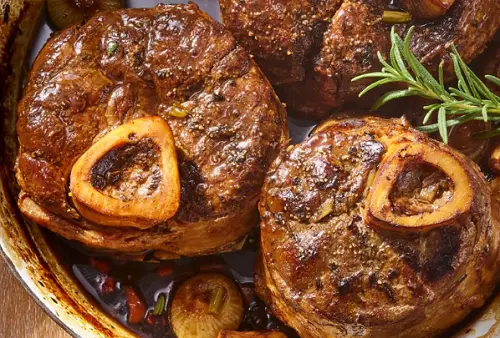 Ingredients
5 pork shanks, (just under 4 pounds)
4 Tablespoons extra virgin olive oil, divided
1 cup finely chopped onion
½ cup finely chopped celery
½ cup finely chopped carrot
3 garlic cloves, minced or grated
1 – 2 cups dry white wine
1 or 2 cups of chicken stock
1 28-ounce can whole or pureed San Marzano tomatoes
2 Tablespoons fresh thyme or 1 teaspoon dried thyme
2 bay leaves
2 Tablespoons tomato paste
1 lemon, zested

Gremolata:
¼ cup finely chopped Italian parsley
1 lemon, zested
3 garlic cloves, minced
Directions
Take kitchen twine and tie it around each shank, securing the meat to the bone.
Preheat oven to 325°F.
Season shanks on both sides with some salt and pepper.  Heat 2 tablespoons of the olive oil in a dutch oven over medium high heat. Place the shanks in the pot & sear each side for about 3 -4 minutes, creating a nice crust. Work in two batches because the shanks most likely are not going to fit in the pot all at once while searing.  Remove the shanks from the pot to a plate. Do not wipe out pot. Lower heat to medium.
Add the other 2 tablespoons of olive oil to pot.  Add chopped vegetables to the pot, including garlic. Saute about 6 – 7 minutes, until vegetables soften.  Raise heat a little & add the white wine & cook for another 3 minutes.  Add a cup of chicken stock & tomatoes – if using whole tomatoes, just crush them with your hands as you put them in the pot.  Add thyme, bay leaves, tomato paste & lemon zest.  Cook for a few minutes, stirring, to blend. Return shanks to the pot & submerge them in the sauce. Add more stock if you need to. Cover with a tight fitting lid, place in the oven & cook for about 2½ hours.
Meanwhile, make gremolata by mixing the finely chopped parsley with lemon zest & minced garlic.
Check shanks – they should be tender.  Remove to a serving platter & cut off the string.  Spoon some sauce over shanks & serve the rest on the side.  Sprinkle gremolata over the pork. Serve the pork with risotto, polenta or pasta.