Pork Stew with Peppers and Olives
Pork Stew with Peppers and Olives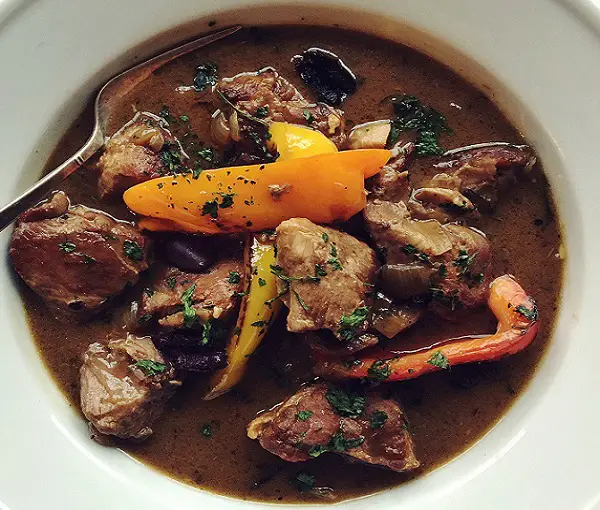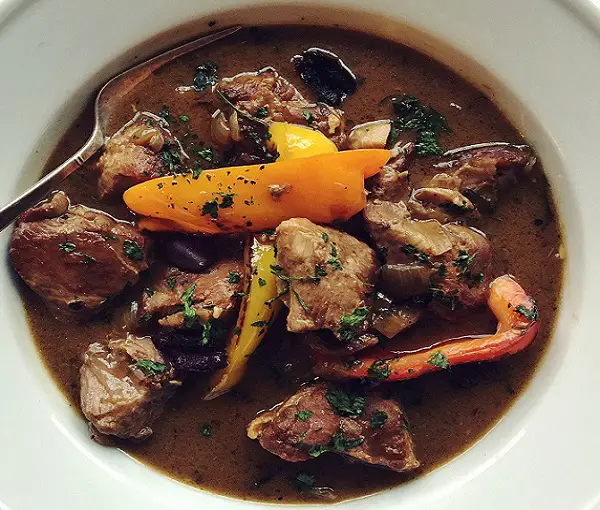 Ingredients
by: Three Many Cooks
Serves: 8 servings
    3 pounds boneless pork shoulder, cut into 1½ to 2-inch chunks

    3 tablespoons olive oil

    Salt and ground black pepper

    1 each: yellow, red, and orange bell pepper, stemmed seeded and cut into 8 wedges

    1 large onion, cut into medium dice

    3 large garlic cloves, minced

    1 tablespoon herbes de Provence

    Finely grate zest and juice from 1 large orange

    ½ can (2 ounces) anchovies, finely minced (or 2 tablespoons anchovy paste)

    3 tablespoons flour

    2 cups chicken broth

    1 cup dry red or white wine

    3 bay leaves

    ½ cup coarsely chopped pitted Kalamata olives
Instructions
    Adjust oven rack to lower-middle position and heat oven to 450 degrees.

    Heat a heavy-bottom soup kettle or 5- to 6-quart Dutch oven over low heat. Meanwhile, place meat cubes in a medium bowl; coat with 1 tablespoon of oil and season generously with salt and pepper.

    A few minutes before cooking, add 1 tablespoon of oil to the pot; increase heat to a strong medium-high until wisps of smoke start to rise from the pan. Add peppers; sauté until lightly brown and tender-crisp, about 3 minutes. Remove from pot; set aside.

    Working in 2 batches, add meat; sear, turning only once until 2 sides form an impressive, dark brown crust, 5 to 6 minutes per batch. Transfer to a bowl; set aside.

    Add remaining tablespoon of oil to the hot empty skillet; add onions; sauté until softened, 4 to 5 minutes. Add garlic, herbes de Provence, orange zest, and anchovy paste; cook until fragrant, about a minute. Whisk in flour, then broth, wine, and orange juice, seasoning with salt and pepper.

    Return pork to pot, along with bay leaves and bring to a simmer. Turn off heat and using a potholder to protect hands, press a sheet of heavy-duty foil down so that it touches the stew. Seal foil completely around the edges. Place lid snugly on pot, set in oven, and cook for 1½ hours.

    Remove pot from oven and set over low heat. Carefully remove foil; stir in peppers and olives. Remembering that kettle and lid are hot, re-cover pot and simmer to blend flavors, about 5 minutes. Serve.